BlackBerry: Enterprise Security Is As Much About Separating Data As It Is About Integrating
Enterprise security has been a big topic at Mobile World Congress with Samsung announcing its new Knox software feature that allows users to partition their Android Galaxy smartphone or tablet into a work section and a play section. The initiative is spurred in large part as the BYOD–or bring your own device–to work movement is gaining momentum with users bringing in devices and asking IT managers to provision them for enterprise use, rather than waiting for enterprises to dole out boring, clunky devices for personal use.It's also fueled by the blurring of work and play as mobile workers work more hours, even while on vacation, thanks to advancements in technologies that allow ubiquitous connectivity, fast mobile broadband, and capable devices with fast processors and high resolution displays. Samsung's not the first to tackle the work-play divide. Long-time enterprise smartphone-maker BlackBerry (formerly known as RIM) has had its BlackBerry Balance, which offers similar features for a while now.
With Mobile World Congress happening halfway across the globe, I had a chance to sit down with BlackBerry enterprise guru Mike Brown to talk about enterprise security in the mobile space and to see how BlackBerry is reacting to Samsung's announcement. Brown says that enterprise security is as much about separating data as it is about integrating data and not letting the UI get in the way of what a user wants to do.
Separating Data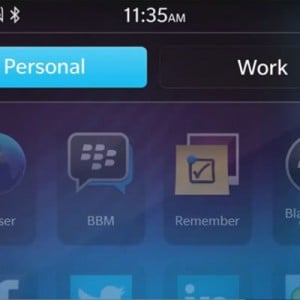 Separating data means just what it sounds like. With BlackBerry Balance and Samsung Knox, the enterprise partition will give users access to things that work allows them to have, including files and documents. The important thing that both platforms support is that users simply cannot copy information from the work partition to the play partition.
BlackBerry goes a step further by enabling–for enterprises with BES accounts–remote desktop functionality out of the box. Not only will the enterprise partition give you access to locally stored documents on your phone and cloud-based documents through cloud services like Box and Dropbox, but users will also be able to go to their work computers–should their IT managers allow it–and have access to files stored on their desktop at work. Dell is providing similar experiences through its enterprise Wyse service, and it's nice to see BlackBerry integrating this remote file explorer natively on BlackBerry 10 devices. Users don't need to be bothered about authentication, VPNs, log-in credentials as all that is taken care of by BES.
Integrating Information
As nice as it is to have different wallpapers for your work home screen versus your play home screen, users should not need to switch often between the two environments if they're looking for information. According to Brown, this is the strength of the Blackberry 10 platform and the BlackBerry Hub feature on the BlackBerry Z10 smartphone. BlackBerry Hub serves as the device's aggregate notification center for all incoming messages and important alerts.
Essentially, as an employee of GottaBeMobile, I should not have to switch to the enterprise partition to look at my work calendar to see where my next meeting is, and then switch back to my play calendar to see where my kid's soccer game is later this evening. The Hub integrates calendars, messages, and contacts so you'll get to view everything. It's what Brown calls a View layer, which allows users to seamlessly transition between work and play without having to switch.
With the View layer, I can see Josh Smith's personal Facebook if he's stored on my personal contact. If he's also on my BES contact, I can integrate his work LinkedIn information as well as his Google+. This way, the contacts app serves as a CRM and I'll know what Josh is up to even before I make the call. This way, if I am soliciting Josh for ad placement on GottaBeMobile, for example, I can make small talk and know that his two puppies are playful and that he recently bought them toys, for example, if these little personal factoids show up on Google+ and Facebook.
So while there is separation of data, BlackBerry is still promoting its UI as being user friendly as it allows information to be intelligently integrated when you need it so that the technology does not get in the way of the user experience.
We'll have to wait and see how Samsung's Knox performs in this field, but BlackBerry is proving a compelling solution for those who want to carry a single phone but need to manage work and personal lives.
The Data Divide
The nice thing about BlackBerry 10 is not just that it separates data and emails from work and play, but also in how it handles data. For BES customers, they can have separate instances of Twitter and Box running, for example, on BlackBerry 10. They can have one instance of Twitter, for example, with their personal credentials on the play side and another instance of Twitter running on the work side with their work credentials. Though Twitter allows multi-logins, other programs like Dropbox or Box do not and this is helpful if you need to access a spreadsheet with your kid's afterschool schedule on the play side while you're looking at the sales and revenue spreadsheet on the work side on your cloud storages.
It's essentially like opening two browser windows on the desktop and will help users keep things separate. As such, if developers choose, they can create their apps so that two separate instances of the same app can be operated simultaneously, one on the play side and one on the work side.
Work-Play Balance
It will be interesting to see how BlackBerry Balance and Samsung Knox evolve moving forward. With hyper-connectivity, there is no longer a clear line between work and play, and BlackBerry Balance and Samsung Knox are attempts at trying to help users manage both sides. On the work side, there is attention to enterprise security while on the play side, there needs to be safeguards for user privacy. Competing interests and differing tasks in our daily lives will drive Balance and Knox to evolve over time, but for now, BlackBerry says that it is attuned to the need for security while delivering technology that does not hinder or get in the way of the experience.

As an Amazon Associate I earn from qualifying purchases.