BlackBerry PlayBook 4G LTE Photos Surface
RIM has long been thought to have a 4G LTE version of its BlackBerry PlayBook tablet up its sleeve and today, photos of that alleged tablet have come up to the surface.
Images of what appear to be a BlackBerry PlayBook with a SIM card slot have emerged on the CrackBerry forums today (courtesy of B4BB), showing off what could be RIM's ever elusive PlayBook 4G LTE tablet.
Previous rumors pegged April as the device's launch month and we also saw the device pass through the FCC with HSPA+ and LTE a short time ago, so, the device is definitely real.
These photos seem to cement that even further.
The photos detail a device that has a 'mobile network' icon in the Settings and it appears that there is also native BBM on board as well.
What's unclear though is whether or not the device will ever make it to the market.
RIM had previously been working on a 4G WiMAX version of the PlayBook for Sprint, only to can the project before it was ever released to the public.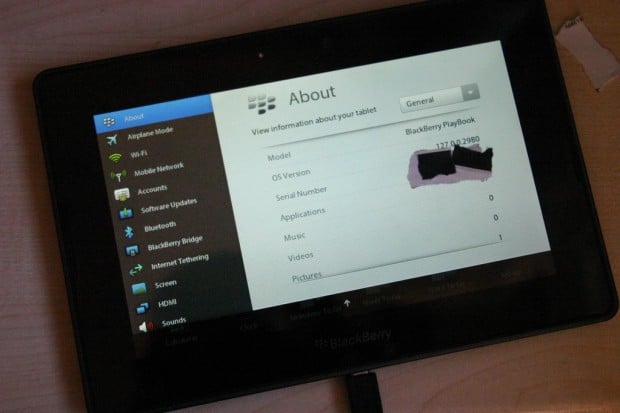 And now that the PlayBook is approaching it's first birthday, and with a 4G LTE iPad now available, it's unclear if there is much of a market for this device.
RIM, the company, is in turmoil as well.
It reported heavy setbacks in its Q4 financial results, and some of the company's top leadership, including company co-founder Jim Balsillie, left the same day.
The company says it is still committed to putting out consumer hardware but the company won't have any next-generation devices – running RIM's BlackBerry 10 software – out until the second half of 2012 at the earliest.