BlackBerry PlayBook Headed to Verizon
According to Verizon's 2011 winter consumer guide (seriously), the BlackBerry PlayBook will be headed to the network 'soon.'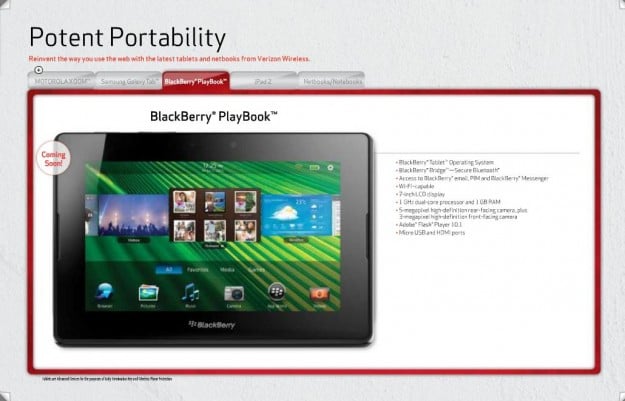 This is of course great news for folks who were downtrodden after Verizon indicated that it was still evaluating whether or not the PlayBook would show up on the network. When it's going to show up exactly remains an absolute mystery.
While it says coming soon, this is the winter 2011 consumer guide which means that Verizon may not be launching this thing soon.
Stay optimistic though because Verizon's competition, Sprint to be exact, is expected to launch the BlackBerry PlayBook on May 8th alongside the Xoom and the Nexus S 4G although an official announcement has yet to be made.
So, don't be surprised if Verizon makes an announcement in regards to the PlayBook and its avaialblilty in the next few weeks (or months). Hey, at least it's coming, right?
(Via Engadget)