BlackBerry PlayBook Helps Control Car Settings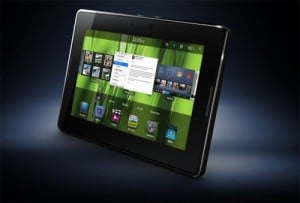 We've seen tablets and smartphones serve as remote controls for TVs, appliances, and home automation systems, but the next wave of mobile technology may be to control car systems. If QNX–the company behind many in-car systems such as those found on BMW, Mercedes, and Chevrolet cars–has its way, then tablets may pave the way for car automation systems.
QNX has built its name on building robust car systems that can synchronize with iPhones, hook up with an iPod to play music, and pump out videos and tunes via a connected hard drive filled with MP3s. However, the company's OS has also been used by Research in Motion on the new BlackBerry PlayBook, which may allow for deeper technology integration. Wired took the PlayBook and a Corvette out for a spin–both of which has QNX's OS–and they find that the PlayBook can adjust the cabin temperature on the Corvette.
As more manufacturers join the mobile race, we're beginning to see a lot of synergy between tablets, smartphones, and the experiences of the companies building them. For instance, Sony is leveraging its experiences of making TV to deliver the Bravia Engine onto smartphones like the XPERIA Arc. Panasonic is using its expertise in the living room to bring tablets with an an entertainment focus. Samsung is creating an ecosystem for its tablets and televisions by allowing content on its Smart TVs to stream wirelessly to its tablets for viewing in another room in the house. And now, it seems that QNX may be leveraging its experiences building car systems to allow Research in Motion's tablets to interface with and control the vehicle.
When the iPad initially launched, some enthusiasts were seeing the device as a way to build into their cars an inexpensive car computer, or carputer. Car enthusiasts were finding ways to mount the tablet and modify and retrofit their dashboards to accommodate the iPad. The iPad, essentially, became an in-car system that provided music, videos, and GPS navigation. In essence, the iPad served as a viable substitute for an in-dash in-vehicle infotainment system–systems that are made by QNX and its rivals. Now, with tablets, rather than be a substitute for car systems, QNX is using these mobile devices to augment their systems by delivering value to the in-dash systems rather than replace them.