BlackBerry PlayBook OS 2.0.1 Now Available
Back in February, RIM rolled out the major BlackBerry PlayBook OS 2.0 update, an update that brought a number of welcomed improvements and features. Today, the company has followed that update up with another update, OS 2.0.1, an update that brings a number of fixes for the device's software.
The update is currently available Over-the-Air (OTA) for PlayBook owners.
While it's not as big as the OS 2.0 upgrade, it does bring some remedies that should please the million or so owners of RIM's tablet device.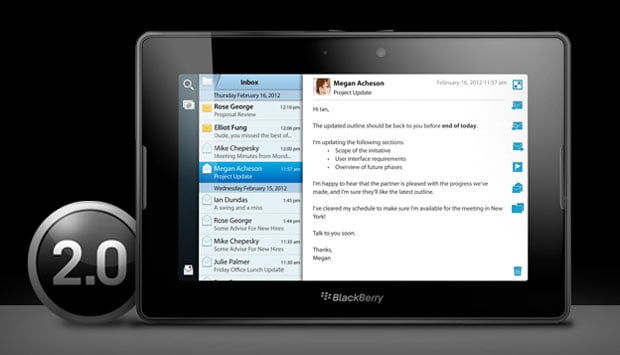 RIM has confirmed some of the features on its blog, a list that includes:
Browser enhancements to address performance with some websites
Improvements to support Android apps
Optimizations to Video Chat, PIM and BlackBerry Bridge applications
The company also says that the new software has a lot more that comes along with it, but it doesn't specify that that more actually is.
This update follows the OS 2.0 update which brought native email, contacts, and Android app support amongst other things. And while the update certainly made the tablet better, it just about a year after RIM released the tablet to the market.
It also arrived shortly before Apple unveiled and launched the new third-generation iPad, which sold three million times in the first three days of availability.
As for the PlayBook, RIM revealed that the tablet was in the hands of over a million consumers which puts it on par with the likes of the Motorola Xoom.
The company has been rumored to be releasing a 4G LTE version of the tablet device but has not yet given that model an official release date.

This article may contain affiliate links. Click here for more details.