BlackBerry PlayBook OS 2.0 Available Now With Native Email, Android App Support
BlackBerry Playbook owners can update their Playbooks to the new and improved BlackBerry PlayBook OS 2.0.
Just as we predicted, Research In Motion has released BlackBerry OS 2.0 and it is available to download right to your PlayBook.
BlackBerryPlaybook OS 2.0 brings a number of features including enhanced email and calendar functionality as well as the ability to run select Android apps that have been submitted to the BlackBerry App World.
BlackBerry PlayBook OS 2.0 Features
As much as RIM wanted to claim that the PlayBook didn't need integrated email and other apps, they have caved. Along with a number of other features, RIM has included a number of much-needed updates and features.
New Built in Apps: Email, Calendar and Contacts
Finally, you can reach your email, calendar and contacts on the PlayBook without the need for a bridge or the web browser. RIM is pushing the unified inbox and People View of your calendar, which shows you who is on your calendar. You can also link your contacts up to Facebook, Twitter and LinkedIn.
https://www.youtube.com/watch?feature=player_embedded&v=0r3bFraVcqo
The video above shows you how the new email system and communication tools in BlackBerry PlayBook OS 2.0 work.
Android Apps on PlayBook
https://www.youtube.com/watch?v=XRriABMed7M
BlackBerry OS 2.0 brings Android apps to the PlayBook, but there is a limitation. You can't just go grab any Android app from the Android Market or from the web, you need to get Android apps that are designed to work with the PlayBook and submitted to the BlackBerry App World. The video above gives a demonstration of Android apps on the PlayBook with playBook OS 2.0.
BlackBerry Bridge with Remote Control
https://www.youtube.com/watch?feature=player_embedded&v=9eb9tKEXRlY
The new version of BlackBerry Bridge allows you to use your BlackBerry Smartphone as a remote control for your PlayBook. You can see how this works in the video above.
Open On for Blackberry
Another feature is the ability to open documents like PowerPoint, Word and PDF right on the PlayBook with a single click.
How to Update to BlackBerry PlayBook OS 2.0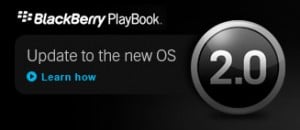 You should see a notification to update your PlayBook the next time you turn it on. If you see this notification, tap "Update" to start installing the new software.
To manually update to BlackBerry PlayBook OS 2.0, follow these steps.
Tap on the Gear icon in the upper right.
Tap on Software Updates
Tap on Check for Updates
Choose Download and when it is complete Choose Install.
Make sure your PlayBook is plugged in or has at least a 20% charge before updating. The PlayBook may restart during the upgrade process.
tk

As an Amazon Associate I earn from qualifying purchases.