BlackBerry PlayBook Price Cuts Begin
Yesterday, during RIM's Q2 earnings call, Co-CEO Jim Balsillie stated that the BlackBerry PlayBook would start seeing some price cuts. He didn't specify when or how much of a price decrease the tablet would see only promising that something was coming. Well, sure enough, today, we have our first price drop on the PlayBook courtesy of Canadian carrier Rogers.
Now, this price drop isn't for the general populous. Instead, Rogers has slashed the prices of the PlayBook for its employees. However, it likely gives us a glimpse at what we could see in the public arena in the near future.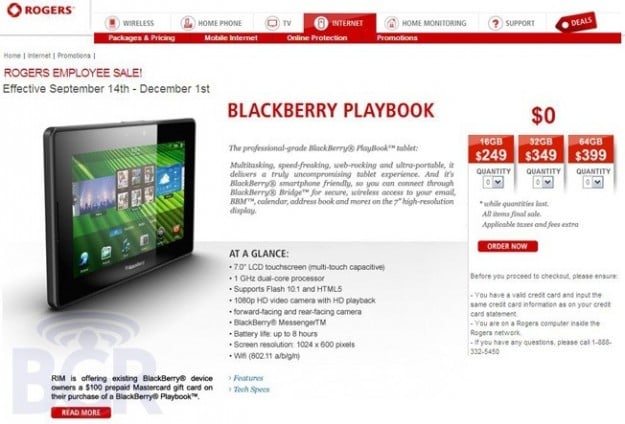 The price cuts are drastic. The 16GB BlackBerry PlayBook tablet, which is normally $500 in Canadian dollars, has been reduced to a mere $250. A 32GB variant now costs $350 down from $600 and the 64GB PlayBook has fallen to $400 which is a far cry from its original $700 asking price.
Of course, there are no guarantees that this is the pricing we'll see in the open market but if this indeed the route that RIM and the retailers take, we might have a frenzy similar to the one that HP stirred up when it dropped the price of the HP TouchPad to $99.
Would you buy a BlackBerry PlayBook if it was 50% off?
Via: BGR

As an Amazon Associate I earn from qualifying purchases.