BlackBerry PlayBook Review: First Impressions, Out of Box Experience
The BlackBerry PlayBook is finally here and I got a chance to unbox a review unit that RIM sent over yesterday afternoon. It's clear that this is one high-quality piece of hardware, but it's also clear that there's a lot of room for improvement. We'll put together a complete review in the coming days, but I wanted to share my initial impressions.
When I first saw the BlackBerry PlayBook prototypes back at DEVCON 2010 I wanted to get my hands on one. Unfortunately, RIM hid them behind glass. I played with PlayBook prototypes at CES 2011 during some demo sessions, but actually being able to dig into one at my home office is a much better experience.
So far the PlayBook has been all play and no business. It actually felt a bit wrong to 'play' on a BlackBerry device rather than scrolling through email or tapping away to write messages.
This is the BlackBery PlayBook's box. As you can see, the artwork depicts a bunch of fun stuff, such as a racing game and a music app.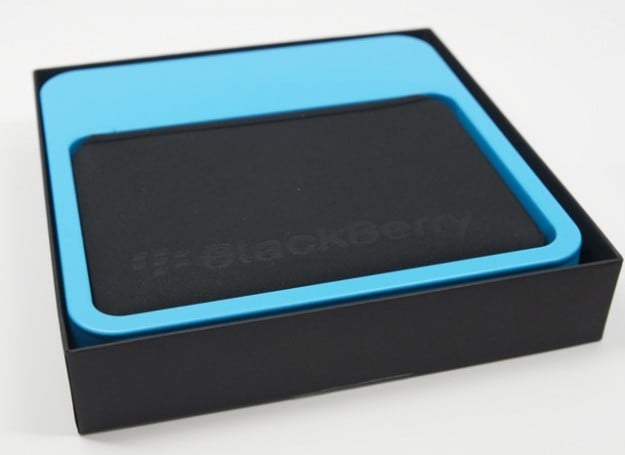 The BlackBerry PlayBook comes in a protective neoprene case that sports a BlackBerry logo on the outside and a blue lining on the inside. It's not the fanciest thing in the world, but it's functional and means you don't have to rush out and buy a case on day one of PlayBook ownership.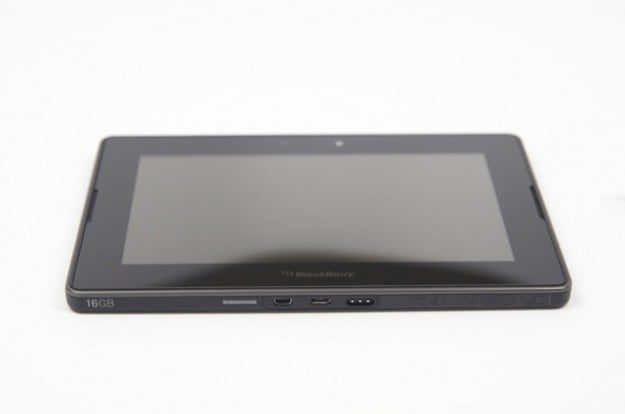 The BlackBerry PlayBook feels very solid and is well built. The hardware designers really thought things out and could teach other tablet makes a thing or two. The necessary regulatory info is stamped on the right side of the edge below the display and is barely visible. The I/O ports (micro USB, HDMI and docking connector) are also on the bottom edge. On the left and right edge of the bezel are small slits that make way for a pair of speakers. The speakers are loud for their size and make the PlayBook sound bigger than it is when listening to music or playing video games.
The BlackBerry PlayBook's display is absolutely gorgeous. A frame of the startup screen is above. The PlayBook comes with 25 images and a sample HD video. All of the bundled sample content looks amazin on the PlayBook.
The BlackBerry PlayBook shows a bit of cockiness during initial setup.  Perhaps RIM should allow users to decide if it really has best-in-class features. You could argue that this most certainly isn't the first professional-grade tablet.
Time to explore! But wait….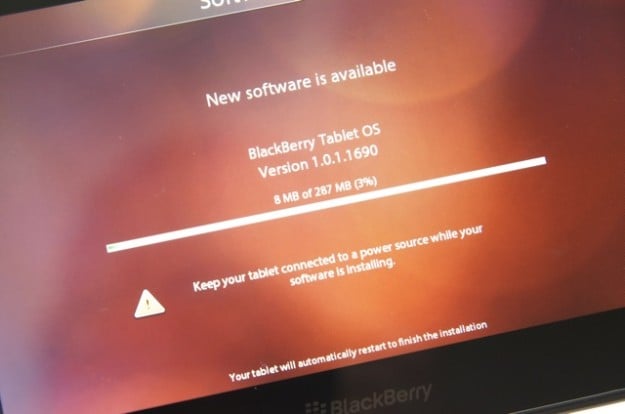 That's right…a 287MB update. I understand that this is a brand new device, but this kind of took some of the thrill out of unboxing the PlayBook.
After installing the update, I swiped through a few pages and it was ready to go. I spent the first half hour or so playing around with Need for Speed, listening to music on Slacker and exploring the device.
The PlayBook's user interface is excellent and a manual is not required. Switching between apps and multitasking is a breeze.
Unfortunately, there are same gaping holes in the PlayBook out of the box. There's no built-in email client,which means you're out of luck if you don't have a BlackBerry smartphone to use in conjunction with your PlayBook. There are a few icons on the PlayBook for Gmail, Hotmail and other email services, but unfortunately these are are just shortcuts to these services' web sites, not native apps.
Those looking to add apps will be disappointed. Need for Speed was entertaining to play for a few trips around the track, but Tetris kept on crashing.
After playing with the BlackBerry PlayBook for a few hours, I now appreciate the device . However it's far from perfect and it'll be very difficult for retailers to sell this over the iPad 2 and Android devices. There are relatively few apps available on the BlackBerry App world and the apps that are  backed in aren't terribly impressive compared to what you can get on the iPad 2 and Motorola Xoom.
I'm going to continue exploring the PlayBook in the coming days.