BlackBerry PlayBook to Sell at 20,000 Retail Outlets, $499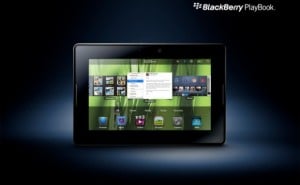 Research in Motion just announced that the BlackBerry Playbook will be available at more than 20,000 retail locations across the U.S. and Canada. The BlackBerry Playbook will start at $499, putting it right in line with Apple's iPad 2 in terms of price. The PlayBook was first introduced at DevCon 2010 last fall and we've been waiting quite some time for this announcement.
RIM has managed to strike deals with Sprint, AT&T and Verizon to carry the PlayBook in their stores. Staples, RadioShack, Office Depot and Best Buy are the major retailers that will be selling the Playbook in the U.S. Cbeyond, Cellular South, Cincinati Bell and RIM-owned ShopBlackberry.com will also sell the PlayBook.
In Canada, the PlayBook retailer list is even longer and includes some big names, such as Costco and Walmart, that don't appear in the U.S. PlayBook retail roster. Future Shop, Rogers, Sears, Sasktel, Telus, Tbooth Wireless and several others are all going to be pushing the PlayBook.
The BlackBerry PlayBook is a tablet designed to work seamlessly with BlackBerry smartphones. It features an all-new tablet operating system and a suite of applications specifically designed fot he tablet. While the BlackBerry brand is best known for productivity, RIM's tablet is designed for both work and play.
RIM hasn't officially announced an availability date, but our sources peg the date at April 10.
The $499 price point will be for the 16GB version of the PlayBook.
BlackBerry PlayBook Specs:
7″ 1024×600 WSVGA capacitive LCD touch screen
Ultra-portable at less than a pound and less than one-half inch thick: 0.9 lbs (425g) and 5.1" x 7.6" x 0.4" (130mm x 194mm x 10mm)
1 GHz dual-core processor
BlackBerry® Tablet OS with support for symmetric multiprocessing
MP3, AAC and WMA audio playback
Support for high resolution video playback (H.264, MPEG4, WMV)
1080p HDMI output
Dual 1080p HD cameras for video conferencing and video capture (3MP front and 5MP rear)
1 GB RAM memory
Up to 64 GB internal storage (16, 32 and 64 GB models)
GPS, Orientation Sensor (Accelerometer), 6-Axis Motion Sensor (Gyroscope), Digital Compass (Magnetometer)
Stereo speakers and stereo microphones
Wi-Fi (802.11 a/b/g/n) connectivity
Bluetooth 2.1+EDR support