BlackBerry Q10 Available for Pre-Order Today on AT&T
The BlackBerry Q10, the first device to feature the new BlackBerry 10 operating system and a QWERTY keyboard is now available for pre-order to users of AT&T wireless' network.
Users will be able to purchase the device in the usual two pricing structures, either with a two-year service agreement the device will cost users $199.99 or $449.99 for users interested in a one-year service agreement. Users who are interested in purchasing the BlackBerry Q10 and avoiding contracts all together will also be able to do so for $584.99.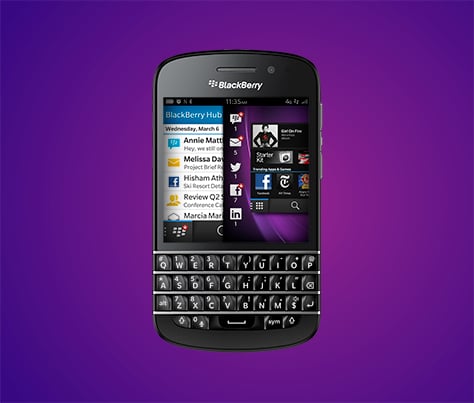 AT&T Wireless shows a ship date of June 18, about two weeks from today. The company is offering users free shipping.
The BlackBerry Q10 on AT&T joins variants on each of the nation's four largest wireless carriers.
Verizon's version of the BlackBerry Q10 will feature two color options, next generation 4GLTE data technology and the ability to place calls and use data on foreign networks for $199 as well. Its version can also be purchased in white if a user prefers a mobile device with a slightly more cheerful color hue. It begins shipping to users on June 6th.
Read: BlackBerry Q10 Now Available for Pre-Order on Verizon
The BlackBerry Q10 on T-Mobile begins shipping today, and features the same 3.1 inch Super AMOLED touchscreen,  1.5 GHZ Snapdragon S4 processor, 8 megapixel rear-facing camera, 2GB of RAM and 16GB of storage as every other variant of the device available in America. However the company is making the device available to users with support for its HD calling functionality. Users on T-Mobile will be able to pick up the BlackBerry Q10 for a down payment of $99, though they'll need to make up the difference in the device's total cost of $580 with monthly payments of at least $20 on top of their monthly service charges.
Read: BlackBerry Q10 Coming to T-Mobile on June 5
For its part, Sprint has yet to detail when its users can expect the BlackBerry Q10 to show up on its network, though it has offered users the ability to pre-register and receive information about when the device will be made available to them.
The BlackBerry Q10 joins the BlackBerry Z10 in the United States and together, make up the entirety of BlackBerry's BlackBerry 10 operating system lineup. The BlackBerry Z10 drops the Q10's QWERTY keyboard in favor of a large touchscreen. It's also currently available on the major U.S. carriers.

As an Amazon Associate I earn from qualifying purchases.