BlackBerry Q10 Coming May 1st, User Guides Now Available
The BlackBerry Q10 will come to Canadian carriers on May 1 starting at $199, but impatient users can look at the user guides for the phone right now.
The BlackBerry Q10 will come to Rogers, Bell and Telus on May 1 for $199 on a three-year contract. The first BlackBerry 10 smartphone with a keyboard will also come to prepaid carriers including Virgin Mobile Canada, Fido, Koodo Mobile and Sasktel on the same day. Presumably those carriers will charge more for the device.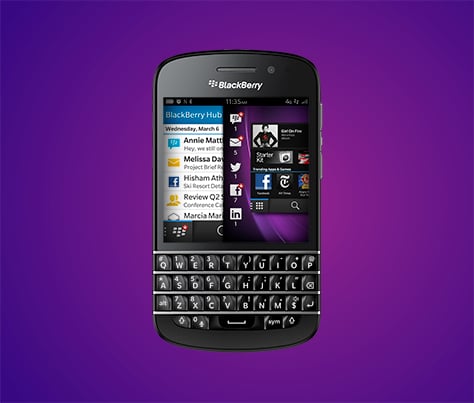 Unlike the BlackBerry Z10, which features a 4.3-inch 720p touchscreen like many Android smartphones the Q10 looks more like a traditional BlackBerry device. The BlackBerry Q10 has a smaller square touchscreen and a full QWERTY keyboard beneath it for those who don't like typing on touchscreens.
The new Q10 runs the same BlackBerry 10 as the Z10, so users still get the BlackBerry Hub, BlackBerry Balance, BlackBerry Messenger and of course BlackBerry Messenger in the new phone. The phone can also use the same apps in the BlackBerry App World, the only difference is they will display on a smaller screen.
As CrackBerry found the announcement of the BlackBerry Q10 release date in Canada comes shortly after the company put manuals and user guides for the new phone on its website. The guides include the safety and product information guides every just throws away, a How To detailing basic use of the new platform and a 73-page PDF user guide that explains almost everything about the phone.
Almost everything in the guides are the same as the guides for the BlackBerry Z10 as the focus on working with the BlackBerry 10 OS.
There are a few interesting parts, however. For example, the user guide shows the BlackBerry Q10 will have autocomplete despite having a QWERTY keyboard. The option appears at the bottom of the screen, above the keyboard like it does on Android. It's impossible to use the same autocomplete of the BlackBerry Z10 because it requires a software keyboard.
Strangely, there is no mention of keyboard shortcuts on the new phone, despite their presence on older BlackBerries. Recent rumors claimed they would come in the upcoming BlackBerry 10.1 update, so there's still hope they'll be there soon.

As an Amazon Associate I earn from qualifying purchases.