BlackBerry Q10 in FCC Testing, Could Launch Soon
The Blackberry Q10 is now in FCC testing, possibly indicating a launch for users in the United States sooner than later. That's according Bluetooth profiles and documents released by the FCC and found by Engadget.
The second of BlackBerry's smartphones to boast its new Blackberry 10 operating system has already been announced to be coming to Canadian users on April 30th and had already been rumored to be making its debut in the United States sometime this spring. Recent signals indicated a release in May or June.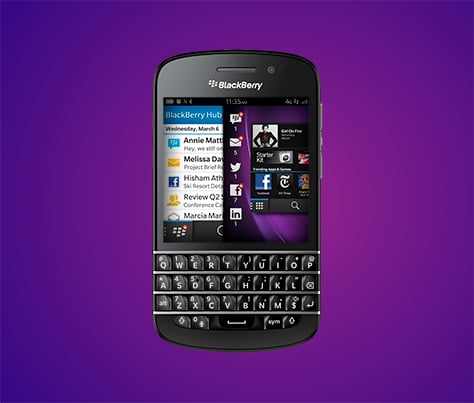 AT&T, T-Mobile, and Sprint have already announced that they'll carry the handset, though details on pricing from any have been hard to come by.
Read: BlackBerry Q10: First BlackBerry 10 Device With Physical Keyboard
In the United States, smartphones must be tested and certified by the Federal Communications Commission before they are made available for consumers. That testing insures that devices won't interfere with mission critical devices already certified by the agency. Without the testing, a device using wireless could interfere with signals from other devices, such as in the case of LightSquared's interfering with GPS signals.
BlackBerry announced the Q10 along with its touchscreen-only sibling in January. In addition to shipping with a 3.1 inch AMOLED touchscreen, the Q10 will have a physical QWERTY keyboard not all that dissimilar to the designs that Blackberry has offered to customers in the past with devices like the Blackberry Curve. In addition to being among the first Blackberry devices with Blackberry 10, the Q10 will be only the second device from the company that offers fairly modern hardware specifications. These internals include a 1.5 GHz dual-core Qualcomm Snapdragon S4 plus processor 2GB of RAM, 16GB of internal storage, and an 8 Megapixel rear-facing camera.
Blackberry's previous flagship, the BlackBerry Bold 9790 shipped with 1 GHz single-core Marvell Tavor processor, a 480 x360 TFT LCD display, and a 5 Megapixel front-facing camera.
In that same respect, Blackberry 10 is the first large operating system update the company has shipped since Apple's iOS and iPhone began their rise to market dominance in 2007. Its newly integrated music store, swipe gestures and multitasking interface dubbed "flow" make it easier for BlackBerry to compete against the modern interfaces and user experience of Apple's iOS, Google's Android and Microsoft's Windows Phone.

As an Amazon Associate I earn from qualifying purchases.