BlackBerry Q10: First BlackBerry 10 Device With Physical Keyboard
Today BlackBerry announced the BlackBerry Q10, its first BlackBerry 10 device with a physical keyboard and touchscreen display.
The BlackBerry Q10 looks very similar to past BlackBerry devices with a physical keyboard, though it runs the company's new modern mobile platform. The phone can run the same apps as the all-touchscreen BlackBerry Z10, but has a QWERTY keyboard for BlackBerry fans who don't want to switch to typing on glass.
While the touchscreen on the BlackBerry Q10 is small, it does support multitouch. The screen is a 3.1-inch square AMOLED display with a 720×720 resolution, which is larger than screens on previous BlackBerry devices, but with a much higher pixel density than recent BlackBerry Bold phones.
https://www.youtube.com/watch?v=hYKFpEOSyUQ
The back of the BlackBerry Q10 features a "glass weave" design that BlackBerry claims makes the phone light and durable. The effect looks similar to the kevlar backing on Motorola devices, though it likely feels different from those phones.
The physical keyboard on the BlackBerry Q10 means the phone can't take advantage of the unique swipe-based autocomplete feature of the Z10's software keyboard. The phone does have an easier way to touch-type for some users, however. Many smartphone users are faster on physical keyboards, or at least prefer to have physical keys when typing on their phones.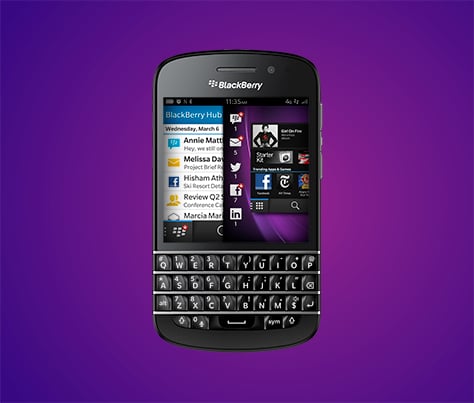 The BlackBerry Q10 will likely come to all four major U.S. carriers sometime in the near future. So far only Verizon has announced that it will carry the smartphone on its network. BlackBerry will let AT&T, T-Mobile and Sprint announce their plans for the device when they're ready to.
With BlackBerry 10, the BlackBerry Q10 will have features such as BlackBerry Hub which integrate email, SMS, BBM and social networks into one section on the phone. BlackBerry Hub helps users interact with friends, family and co-workers through a variety of services without launching apps for each one. It should help users get things done on their phone quickly, something BlackBerry fans will likely appreciate.

As an Amazon Associate I earn from qualifying purchases.