BlackBerry Rumored With BlackBerry 10 Phablet
Though BlackBerry had only recently unveiled two smartphone models to debut its new BlackBerry 10 operating system on, the company may launch two to three additional models by the end of the year, with one such model speculated to be a phablet. The BlackBerry 10 phablet is believed to be a "BlackBerry Z10-like device" with a larger 5-inch display, according to a report given by Jefferies & Co. analyst Peter Misek.
Misek says that his recent visit to Asia to meet with suppliers are the basis of his analysis.
The other rumored models would be mid-range devices with and without  keyboards. Given that BlackBerry had historically hosted a premium Bold lineup and a mid-range consumer-centric Curve lineup for its phones, the new devices may replace today's Curve range. The BlackBerry Z10 and the Q10 can be considered as the spiritual successors to the Bold range.
Based on our checks we believe confirmation that 2-3 additional BB10 models are likely to launch before year end. A mid-range (i.e., ~$400) keyboard, a mid-range touch, and a 5″ Z10-like device (slated for year end launch). None of these models are in our estimates.
It's unclear if the phablet device will be one of the rumored device that will be headed to U.S. carrier Sprint, which had passed on the Z10 and will only launch the Q10 on its network. Sprint was rumored to be getting a Z10 successor that will launch this year.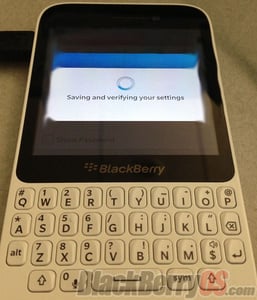 The introduction of at least 2-3 new models of BlackBerry 10 phones this year is unsurprising given that BlackBerry said it will launch at least six smartphones this year. However, the company said that it would be focused on the premium segment initially, so it's unclear what the pricing of the mid-range models will be. Recent leaks show what appears to be a Curve-like keyboard for a BlackBerry 10 smartphone in the same way that the Bold-like keyboard appeared on the BlackBerry Q10. Like the Q10, this Curve-like device lacks any of the usual BlackBerry navigation keys from prior OS versions and customers are instead forced to navigate the BlackBerry experience with the touchscreen.
Misek appears more optimistic about the future of Canadian smartphone-maker BlackBerry. After an earlier published report stating high return rates and slow sales after an initial uptick for the BlackBerry Z10, Misek's analysis appears less grim, stating that the Q10 is being well received through business channels.