BlackBerry Z10 Coming To T-Mobile with 4G LTE Support
T-Mobile is the second carrier in the U.S. to officially announce it will carry the BlackBerry Z10, though it hasn't yet announced pricing or a release date.
The BlackBerry Z10 will come to T-Mobile sometime in the near future, and interested users can sign up on this website to get more information about when the phone will come to the carrier. BlackBerry said during its press conference that the U.S. carrier should carry the Z10 starting in March, so users will have to wait a few weeks for the device.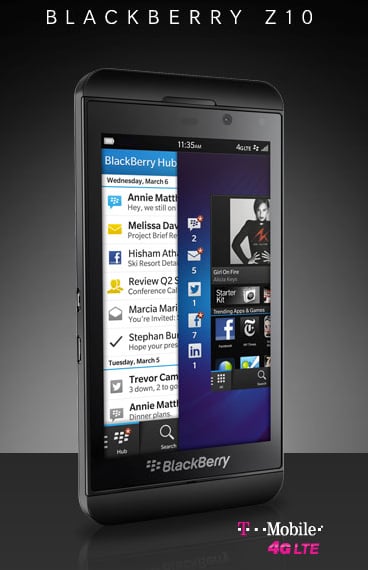 The BlackBerry Z10 is not only the first BlackBerry 10 device on T-Mobile, it is also one of the first 4G LTE smartphones to come to the carrier. The sign-up page for the smartphone shows it will come to the carrier's 4G LTE network, though the network doesn't exist in most markets quite yet.
T-Mobile recently started its rollout of 4G LTE in Las Vegas, with Kansas City and more cities to follow soon thereafter. T-Mobile currently only offers "4G" HSPA+ data speeds, though that network is theoretically as fast as 4G LTE. Many T-Mobile users will have to wait for 4G LTE to rollout to their city, but for some, HSPA+ can provide fast data speeds.
BlackBerry said during its press conference that the new Z10 will cost $149 on three-year contracts, which means the phone will likely cost $199 on most U.S. carriers. T-Mobile does have a history of charging more for some smartphones than other carriers, the carrier sells the Galaxy Note 2 at a higher price, for example.
Like other smartphones on T-Mobile's network users can likely buy the BlackBerry Z10 with a traditional two-year contract, or on a Value Plan with no contract. The Value Plan lets users either pay the full retail price of the phone upfront (which is $599 for the Z10), or pay a subsidized fee and pay for the rest of the phone over time on top of a contract-free phone plan.

As an Amazon Associate I earn from qualifying purchases.