BlackBerry Z10 Lands on First U.S. Carrier, But It'll Cost
Today Solavei, an MVNO using T-Mobile's network announced it's the first U.S. carrier to offer the BlackBerry Z10, but users will have to pay $999 for the privilege.
Through its partnership with GSM Nation Solavei now offers the BlackBerry Z10 for $999 with no annual contract. The price makes the phone $150 more than the unlocked 64GB iPhone 5. For the price users get a BlackBerry Z10 with 16GB of storage space. That's a quarter of the storage space for a much higher price.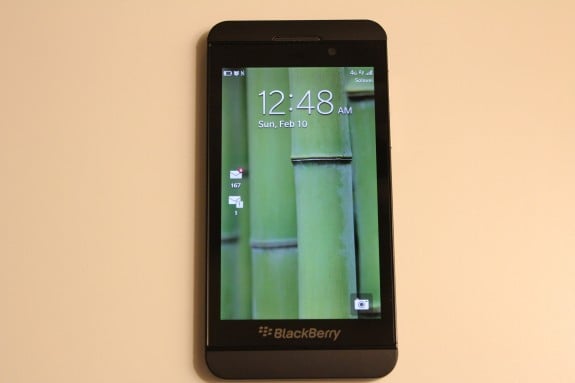 Solavei offers a no-contract plan for just $49 a month on T-Mobile's HSPA+ network, but not the carrier's upcoming 4G LTE network. Paired with the price of the phone using the network for two years will cost less than other plans, even with the exorbitant price of the handset.
The price of the BlackBerry Z10 and two years of Solavei's unlimited plan totals $2175. A Classic Plan on T-Mobile with unlimited data that uses the same network will cost about $2360, assuming the BlackBerry Z10 will cost $200 on the network. Surprisingly, even paying $999 for a phone on a prepaid plan still costs less than a postpaid plan.
A comparatively lower price doesn't justify the cost of the BlackBerry Z10 on Solavei, however. Users can currently bring any supported phone to T-Mobile and pay $70 a month for unlimited data, talk and web. That's more than Solavei each month, but users can bring devices such as an unlocked iPhone 5 to the carrier through its Value Plans.
The BlackBerry Z10 will come to U.S. carrier sometime in Mid-March according to BlackBerry. All major carriers will carry the device, though they haven't yet announced prices or release dates. Users interested in the phone may want to hold off for those official announcements, if only to avoid paying $999 for a new device on a brand new platform. That's a lot of money to spend on an as-yet-unproven platform.

As an Amazon Associate I earn from qualifying purchases.