BlackBerry Z10 Parts Allegedly Leak In Video, Show 4.3-inch Display
A new video from ETrade Supply shows what looks like parts for the upcoming BlackBerry Z10, one of the first devices from RIM to run BlackBerry 10.
The video shows two 4.3-inch screens for the BlackBerry Z10, each with different layout of camera and sensor holes. One of the screens is likely a prototype while the other one with the BlackBerry logo placed below the screen is likely the final version of the display, or close to it.
The leaked displays fit perfectly into a front housing that ETrade Supply claims is for the BlackBerry Z10. When the two pieces are put together the result does look very similar to previous leaks of the L-Series device that RIM will launch later this month.
The front housing also shows where the battery and SIM card will go on the final device. The battery doesn't appear to take up much room within the device, but it's now clear how large the battery will be yet.
If the leaked front housing for the phone is the final version, the phone will be 5.2-inches tall and 2.9-inches wide, which gives the phone proportions similar to the Motorola DROID RAZR HD.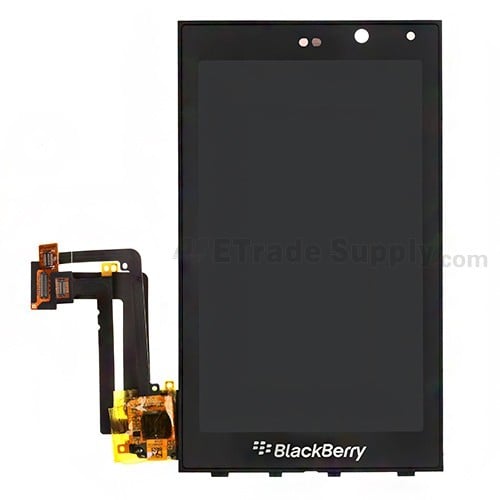 The final piece is the rear housing which again has a slot for the battery as well as spots for a microSD card, the rear-facing camera and a speaker. In the final version of the phone users will likely have the option to remove the battery door to replace the battery as well as the microSD card in the phone. Based on the design, the SIM card will likely be under the battery, and users might have the chance to change it.
The BlackBerry Z10 will launch at RIM's BlackBerry 10 event on January 30 in New York City. It is an all touchscreen device with no physical keyboard. RIM does have plans for BlackBerry 10 devices with square screens and QWERTY keyboards, however.

This article may contain affiliate links. Click here for more details.