Verizon BlackBerry Z10 Review: From an iPhone Owner
The BlackBerry Z10 arrives to a crowded smartphone market, crashing headlong into the iPhone 5, Samsung Galaxy S4 and HTC One.
BlackBerry upped their game with the BlackBerry Z10, offering a full touch screen experience that delivers a very good keyboard, even without the trademark physical keyboard that BlackBerry users cling to in the face of iPhone and Android competition.
I spent the past two months with the Verizon BlackBerry Z10, in an attempt to immerse myself in the new BlackBerry 10 operating system which uses gestures instead of a home button to find out if the BlackBerry Z10 is worth trading in an iPhone or Android device for.
This BlackBerry Z10 review comes not from a diehard BlackBerry fan but from a daily iPhone and Android user who wanted to see if he could switch to the BlackBerry Z10.
Pros

Good Screen Quality
Removable Battery
Good Software Keyboard

Cons

Touch Gestures May Fail
Animations Slow App Launching
App Selection
BlackBerry Z10 | $199 | Verizon

BlackBerry Z10 Review Guide

Related BlackBerry Z10 Review Articles

Buy the BlackBerry Z10
BlackBerry Z10 Review Video
Check out the BlackBerry Z10 review video for a quick summary of the Z10's features, design and display, and to see how it compares to the iPhone 5.
Design
The BlackBerry Z10 looks a bit like a plastic iPhone 5 with no chamfered edges. The BlackBerry Z10 is slightly larger than the iPhone 5 thanks to a larger display, but overall the looks are similar.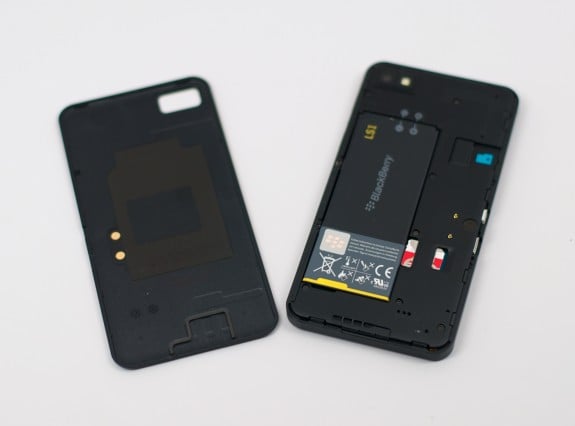 Despite the plastic design, the Z10 is well-built with a very solid feel. There isn't the same cool metal feel as the iPhone 5, but the soft textured back makes for an easy to grip surface and there's no worrying about scratches when you set the Z10 down on any surface.
The back of the BlackBerry Z10 pops off to provide access to a replaceable battery, the Verizon Wireless SIM card and a Micro SD card slot.
On the left side of the device is a Micro USB port for charging and connecting to a computer and a Mini HDMI port that can connect the Z10 to a HDTV or a projector. This makes for universal access to chargers and easy presentation sharing in a meeting room if you have a Mini HDMI to HDMI cable.
The right side of the BlackBerry Z10 features volume control and a voice button sandwiched between them that users can hold to launch BlackBerry 10's built-in voice control feature. It's similar to holding the home button for Siri or finding the Google Now shortcut on Android devices.

The power button is in the middle of the top of the device, next to a headphone jack. The Verizon BlackBerry Z10 features a Verizon logo near the earpiece and on the back.
While it's no iPhone 5 in terms of design, it is a well-built smartphone that offers expandability thanks to a removable back, an area where the iPhone falls short.
BlackBerry Z10 Display
The BlackBerry Z10 features a 4.2-inch display, slightly larger than the iPhone 5's 4-inch display. The BlackBerry Z10 display is also higher resolution at 1280 x 768, compared to the iPhone 5's Retina Display resolution of 1136 x 640. Both fall behind the large 1080P displays of the Galaxy S4 and HTC One.
The BlackBerry Z10 display does boast a high pixel-per-inch ratio of 356, which translates into a good viewing experience. The 4.2-inch Z10 display offers sharp text, good-looking colors for photos and is quite bright. Ultimately the display is as good as the iPhone 5 when it comes to reading, watching photos and everyday use.
When it comes to touch, the Z10 display is good, but several times gestures and swipes did not register. This makes navigating a gesture based operating system difficult. It's impossible to tell if this is something that a software update can fix, or if it's a hardware issue.
BlackBerry Z10 Performance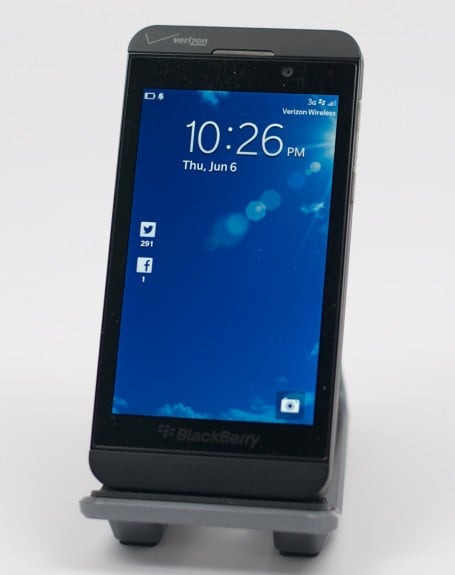 The BlackBerry Z10 isn't a slow device, so users shouldn't be scared off by specs listing a dual-core processor, when many smartphones come with a quad-core processor.
Navigating around the BlackBerry Z10 is fluid, and apps run well, but there are un-necessary animations that add to the time it takes to open an app and to unlock the device. When you tap on an app to launch, BlackBerry 10 pops you over to the running apps page and then opens it, which gets annoying quickly.
As far as swiping and gesture controls, the system is smooth though there are occasional swipes that don't register.
The BlackBerry Z10 connects to Verizon's 4G LTE network which performed better than the iPhone 5, holding a 4G LTE signal where the iPhone 5 would only connect to 3G. Speeds vary based on location, but are consistent with the fast speeds we've encountered on other Verizon 4G LTE devices. BlackBerry 10 includes a personal hotspot feature that can share this connection with other devices.
BlackBerry Z10 Battery Life
The BlackBerry Z10 includes a swappable battery, but it's sufficient enough that average users won't need to pack a spare. During an average day of use with emails, some web browsing and use of the camera, the Z10 lasted a full day.
On days with very heavy use of web browsing on 4G LTE and many phone calls, expect to recharge after about 8 hours. In terms of battery life this is about on par with an iPhone 5.
BlackBerry Z10 Call Quality and Audio
The BlackBerry Z10 excels at phone calls with a very nice dialer app and good call quality. Callers couldn't tell a difference as I switched between the Z10 and the iPhone 5.
The Z10's speakerphone is ok in an office or in the car, but the volume isn't incredibly high so if there is background noise it may be un-usable.
As for music, the Z10 features a loud speaker that directs sound out the bottom of the device. It is loud enough to fill a small office or hotel room, but sound quality trails behind the iPhone 5 and the HTC One with muddy middle tones. Bring a Bluetooth speaker if you plan to listen to music.
BlackBerry Z10 Camera
The Z10 camera is ok, but when it came to capturing fast-moving subjects like puppies or photos in even average lighting the camera didn't match up to the iPhone and Android competition.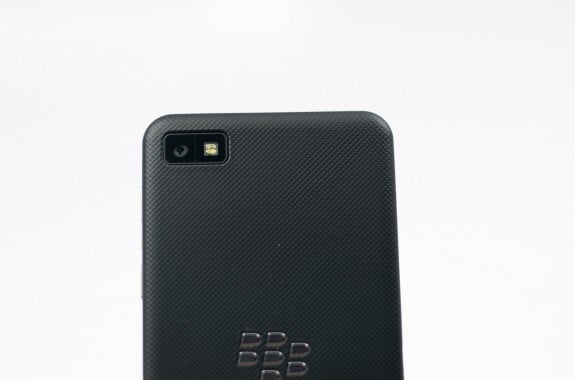 Launching the camera from the lock screen takes a few seconds as you must hold the camera icon to launch the app. Once inside the app, tap anywhere to take a photo or tap on the volume up slider. To focus, you cannot tap, but need to drag a focusing box around the screen and then tap to take a picture.
The camera offers a few options, but no HDR or panorama photos are in the settings. Check out a collection of samples below.
Software and Apps
With the BlackBerry Z10 comes BlackBerry 10, a new operating system designed to bring BlackBerry into the modern smartphone market. BlackBerry 10 relies on gestures to navigate through the operating system which means a large learning curve for iPhone and Android users.
After a few weeks it was easy to remember which gestures did what, but in practice it can be frustrating because not every app offers settings in a swipe down gesture and if the phone rotates to landscape as you hold it a swipe up won't exit unless the screen is oriented correctly. The Kindle app would not offer access to settings no matter how or where I swiped, until 2 weeks later when it magically worked and let me sync progress on a book.
A swipe up on the lock screen unlocks the phone, while pulling down offers access to the Alarm and a clock. Launching apps is delayed by the animations that push users over to the running apps screen.
When swiping up, if you stop halfway you can check notifications in the BlackBerry Hub. The BlackBerry Hub is where Email, BBM, calendar, Facebook, twitter and other notifications live. This is accessed with a left swipe from the main screen. This is handy to check things, but in practice if you read a Twitter notification on a desktop there is nothing to mark it as read here and marking all as read is a cumbersome process.
Where the BlackBerry Z10 and BlackBerry 10 experience started to fall apart for me as an Android and iPhone user was the app selection. Yes, it is better than in the past, but it is missing apps I use on a daily basis. Here are just a sample of missing apps.
Spotify
Pandora
Netflix
HBO GO
Google Authenticator
An official Gmail App
While there are some paid third-party options, the lack of first-party support from these companies is an issue that can't be ignored if you are switching from iPhone or Android to BlackBerry 10.
The BlackBerry Z10 lacks a physical keyboard like most BlackBerries, but it includes a very good software keyboard that lets users swipe up on a letter to push a prediction to the text entry box. This is very nice to use, and quick to learn. The typing experience is better than on the iPhone 5, and it beats the built-in Galaxy S4 keyboard.
Is the BlackBerry Z10 Worth It?
If you already own a BlackBerry and or are required to use a BlackBerry for work, and can switch away from a physical QWERTY keyboard the BlackBerry Z10 is worth considering.
However, if you are using an iPhone or Android device, switching to the BlackBerry Z10 will not be an easy experience. Learning the new operating system and gestures is simple enough, but the lack of important apps, animation delays and overflowing BB Hub are too important to overlook.
BlackBerry is offering updates to BlackBerry 10, and there are rumors of a BlackBerry Z10 successor in the works, so there is hope for the platform to compete with iPhone and Android, but ultimately it's not the BlackBerry Z10 that will win the fight.
BlackBerry Z10 Gallery

As an Amazon Associate I earn from qualifying purchases.