BlackBerry Z10 Shown Off In Video
The BlackBerry Z10 is the star of a new video from German website Telekom Presse that shows off the upcoming BlackBerry 10 device with what looks like a final or near-final version of the BlackBerry 10 software.
The video is all in German, but it's not too difficult to understand most of it as many of the words are easy to figure out. The video shows the BlackBerry Z10 device that's appeared in photos and videos before, but also walks viewers through the gesture controls on the device.
From the lock screen the video shows that a swipe up from the bottom bezel will show the homescreen of the device along with an animation that slowly unveils active apps as the user swipes.
https://www.youtube.com/watch?v=lRw32eVaTlo#!
The video also shows what looks like an alarm clock mode from a swipe down from the top bezel of the lock screen. The screen shows a clock with the words "Notifications off" above it, and a toggle for an alarm below it. This looks like RIM's solution for Do Not Disturb with easy for setting an alarm, which is likely helpful as users go to sleep.
Like the BlackBerry PlayBook a swipe up from the bottom will minimize the app and bring a screen of other running apps.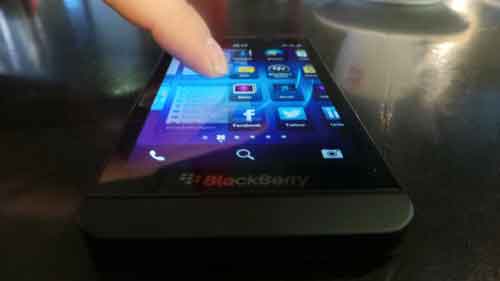 A swipe up and to the right will show the BlackBerry Hub which houses notifications for phone calls, email and social networks. BlackBerry 10 will also show the number of new notifications on the left side of the screen on the lock screen and when users minimize an app.
Inside apps users can access the app's settings with a swipe down from the top bezel. Some apps also use tap and hold for options on individual elements, like deleting the notification of a single phone call in BlackBerry Hub.
RIM will likely announce the BlackBerry Z10 on January 30 when it launches BlackBerry 10. In the U.S. BlackBerry 10 devices will likely come to AT&T, T-Mobile and Verizon.

This article may contain affiliate links. Click here for more details.