Blitz Mode Halo Wars 2 Beta: Release & What You Need to Know
Microsoft shocked the entire Xbox gaming community when it revealed in 2015 that its 343 Industries studio was working in conjunction with developer Creative Assembly towards a Halo Wars 2 release. No one expected it, and those that were a bit skeptical of it seem to have been convinced of the title's pedigree once the first Halo Wars 2 Beta came out in 2016.
Now in 2017, Creative Assembly and 343 Industries are readying another Halo Wars 2 Beta. Rather than let users get a taste of the game's Domination and other modes as it did last time, 343 Industries is focusing on a mode that's getting its first public introduction with the launch of the game. Blitz Mode is part arcade game mode and part excuse to collect a digital deck of cards. Players can use the deck of cards they amass to give them an advantage over opponents.
Read: Halo Wars 2 Release Date: What We Know Now
The Blitz Mode Halo Wars 2 Beta begins soon. Here's what you need to know about it.
Where You Can Play the Blitz Mode Halo Wars 2 Beta
Careful to put the spotlight on its Xbox Play Anywhere initiatives, Microsoft tasked 343 Industries and Creative Assembly with not only creating another science-fiction themed real-time strategy game that people will want to play on a console, but also with taking advantage of what makes Xbox Play Anywhere great. Halo Wars 2 will be available on both Xbox One and PCs running Windows 10.
The Blitz Mode Halo Wars 2 Beta will also be available on both Windows PCs and Xbox One consoles. That's very, very different from where we started. After last year's Electronic Entertainment Expo, 343 Industries noted that PC users would be included in the next round of testing. That PC owners won't get to play the other modes early is a bit disappointing, however.
When the Blitz Mode Halo Wars 2 Beta Will Begin
The Blitz Mode Halo Wars 2 Beta has already begun. Anyone with access to Xbox Live can download the title and begin to enjoy it.
On Xbox One, the beta is available from within the Xbox Store. Just search for "Halo Wars 2 Beta." PC users can open the Windows Store app and click on the banner at the top of the store or search for the game. In both cases, the download is around 12GB. Because this is also a stress test, pre-ordering the game isn't required to participate.
Read: 9 Halo Wars 2 Features That We Know About
The PC version of the game requires a graphics card with 2GB of dedicated RAM and 6GB of system RAM. Its listing also recommends that users have at least an Intel Core i5-2500 processor. Xbox One owners don't have to worry about system requirements, just how much free storage they have available to install the game.
343 Industries notes that earnings and progression from the beta will not transfer over to the final version of the game when it arrives.
Blitz Mode Explained
Blitz Mode itself will seem familiar to anyone that's already tried out a shooter's Hardpoint or Capture mode. The point is to build your score by controlling as many designated areas as possible. The person with the highest score at the end of the 12-minute-long match wins.
As players battle for control over designated areas, they're fighting to maintain the flow of points getting added to their score. Only the team with the most controlled points in a Blitz Mode match is gaining in score at any moment. If there's a tie currently, no one gains anything.
A big part of any real-time strategy game is collecting resources, but Blitz Mode does away with that. Energy is required to use the game's Blitz Cards. You build up Energy slowly, but to get a boost you'll need to fight over energy reserves that randomly drop in the game environment. Some energy also flows back to you when your units are destroyed. Units get deployment fatigue if away from your base for too long.
Each Leader in Blitz Mode has his or her own set of units and advantages. The Blitz Mode Halo Wars 2 Beta will include all the leaders that are set to arrive in the final version of the game. Once you've chosen a leader, you're tasked with working with that leader's units and Blitz Card deck. In Editing the Blitz Card deck before a match, you can prepare your leader for the type of combat you think you'll see when the match begins.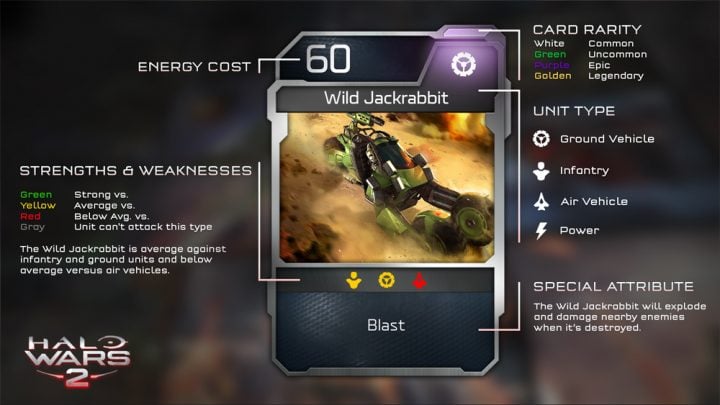 Read: The 10 Most Exciting 2017 Xbox One Games
You get More Blitz Cards as you finish the tutorial and level up after matches in the Beta. 343 Industries has said that Blitz Card packs will be available from the Xbox Store for purchase when the final version of the game launches. Participants in the beta can expect a free pack as a thank you.
All told the Blitz Mode Halo Wars 2 Beta should be a lot of fun for those participating, even if they won't get to experience every mode that the game has to offer. Halo Wars 2 arrives in the Xbox Store and the Windows Store on February 21st. As an Xbox Play Anywhere title, purchasing the game on one console unlocks it on the other.