Blizzard Announces Hearthstone: Heroes of WarCraft for iPad, Mac & PC
Today at PAX East in Boston Blizzard announced its first freemium game, Hearthstone: Heroes of WarCraft, a collectible card game.
Hearthstone: Heroes of WarCraft is a free-to-play card game in which players battle with cards based on the popular MMORPG and RTS universe of WarCraft. Both the player's avatar and their cards will have some basis in the world, with players choosing the role of one of nine WarCraft hero classes as their avatar.
The new game will launch with more than 300 virtual collectible cards which players can buy in packs of five. Players will have the opportunity to buy packs for an undetermined amount of real-world money, or they can earn in-game currency to buy packs by simply playing the game.
Unlike other virtual card games, Hearthstone: Heroes of WarCraft will let players build their own decks from scratch if they choose to. Presumably the game will come with a pre-built deck or two to start players off, then they can build their own when they get enough cards.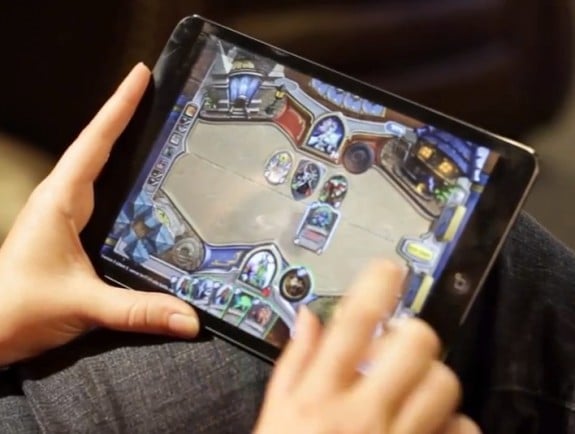 Blizzard will bring the card game to PC and Mac first, though the company also plans an iPad version of the game. Hearthstone will mark Blizzard's first ever iPad game, and it seems like one that will work perfectly on Apple's tablet. Unfortunately, however, the developer doesn't have a firm release date for any version of the game.
Users interested in trying out the game can enter the beta using a Battle.net account (the same account used in World of WarCraft, StarCraft II and Diablo III). The beta will likely come to PC and Mac first, as Apple only lets companies have very small beta tests for their iOS apps.
Gamers at PAX East can also play Hearthstone at Blizzard's booth, according to TouchArcade. That seems to indicate that a beta isn't too far away.

As an Amazon Associate I earn from qualifying purchases.