Blizzard Shows Off Hearthstone iPad Game (Video)
A new video from Blizzard gives a glimpse of the gameplay in Hearthstone, the publisher's new card battle game that's coming soon to the iPad, Mac and PC.
The new ten minute shows a quick game of Hearthstone: Heroes of WarCraft between the mage and shaman heroes as they battle for supremacy in a card game. The video comes from either the PC or Mac version of the game (hence the point on screen), though the iPad version should be very similar to what's shown there.
The game itself plays similarly to Magic: The Gathering or other trading cards games. Players have a certain amount of mana, in this case mana comes in the form of gems that replenish every turn, which they spend to cast spells or summon minions. Minions can either attack other minions or other players, and spells can often do damage to minions or players or buff minions.
Each hero also has their own special abilities, so players have to take abilities and not just the appearance of avatars into account when they choose which character to use.
Each minion has ratings for their attack (how much damage they can do) and defense (how much damage they can absorb). Each player also has 30 life points, the winner is the first player that can deal 30 or more damage to their opponent before their life runs out.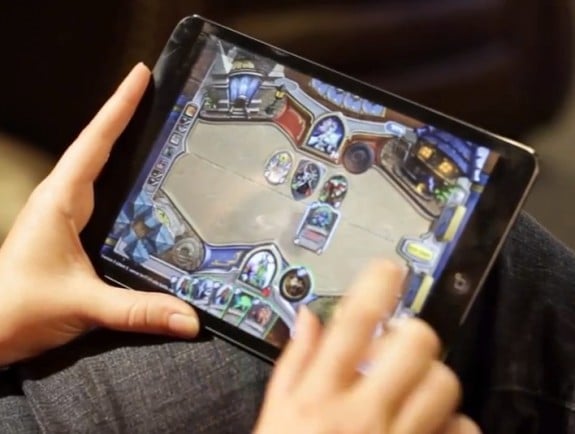 From the video, it seems that matches may only last a few minutes, though presumably games between players with a lot of skill can last much longer. Much of the gameplay is about luck when in a match, but skilled players should be able to build decks that can work well no matter what hand the game gives them.
Hearthstone: Heroes of WarCraft will launch later this year as a free-to-play game on Mac, PC and iPad. While the game is free, gamers will have the option to pay for cards to build out their decks.