Blizzard's World of Warcraft Successor is Dead
At least for now, World of Warcraft, the game that inspired dozens of other massive online role-playing games and showed just how profitable the genre could, isn't get a successor in the form of Titan. Earlier today, Activision Blizzard, the company who develops World of Warcraft revealed that its Titan successor has been completely cancelled.
Representatives from Activision Blizzard, who also produces Call of Duty, confirmed that it'd canceled the World of Warcraft follow up with Polygon earlier today. The outlet quotes Senior Vice President at Activision Blizzard Chris Metzen as saying that the company" took a step back and realized that it had some cool hooks." According to Metzen, "It [Titan] did not distil. The Music did not flow. For all our good intentions and our experience and the pure craftsmanship that we brought together, we had to make that call."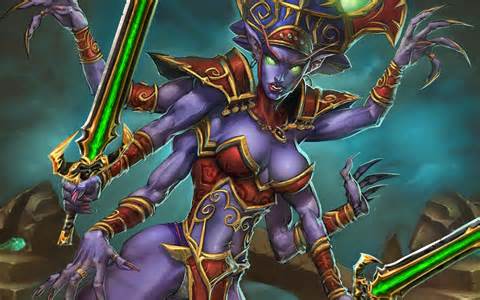 Strictly speaking, Blizzard always maintained that Titan wasn't meant to be a replacement for World of Warcraft. Company representatives told Wired as much in previous interviewers. Blizzard said that Titan was going to be "a different massively multiplayer experience, and hopefully World of Warcraft will still be going strong when that one is released."  Of course, Blizzard never confirmed what the name of game actually was. Some representatives even confirmed that the game was payable. Then, reports surfaced at Venture Beat that the game's personnel had been moved to other titles and the studio was starting over.
Arguably, that many people wouldn't have cared about Titan if it wasn't for the success of World of Warcraft. The game was originally launched in 2004 and defined the online role-playing genre. In grew to be wildly successful. Even today, a decade after it first launched, World of Warcraft is played by millions of PC gamers around the world. In that time a number of add-ons have made it into the game. These add-ons include The Burning Crusade, Wrath of the Lich King, Cataclysm, and Mists of Pandaria. Activision announced a new upgrade for World of Warcraft in the form of Warlords of Draenor.
Players become the characters they create and go on different missions. Whereas with first-person shooters, World of Warcraft is about taking on the life of a powerful character in a world where anything is possible. That's now the idea behind every online-playing game.
All would be rosy if it wasn't for the very real problem that War of Warcraft faces. Even with these expansions World of Warcraft is starting to show its age. In recent years the game has lost millions of players. It's possible that some of that could be attributed to War of Warcraft still charging a monthly fee of $15 to play. In recent years MMOs other than War of Warcraft have given up on charging users a monthly fee entirely. Instead developers have turned to giving their game away for free and charging for in-game extras. The best of these games make these purchases as options. The worst actually require users to pay to advance in the game. Because of this, even many iPhone apps like Angry Birds Go are modern-day descendants of World of Warcraft.
For now, we're only left to wonder what Activision Blizzard plans to do in the online role-playing game area in the future. Besides the expansion the company revealed for World of Warcraft last year, it hasn't said much about plans in the space. Presumably, the company has to have something else in the works if its willing to outright say that Titan is cancelled. For the most part, the trend seems to be in the direction of World of Warcraft slowly losing its base. At some point, the game could become unprofitable if that continues. To that end, Polygon is teasing more Activision Blizzard related announcements this week.