Bloody Assassin's Creed Syndicate Release Details Arrive
Ahead of the official Assassin's Creed Syndicate release date, Ubisoft is filling in more details about the game and its season pass. There's an enhanced version of the game called Assassin's Creed Gold Edition and it'll come with access to a campaign that focuses exclusively on world-famous murder turned pop-culture phenomena Jack The Ripper.
Ubisoft announced the Jack The Ripper add-on for Assassin's Creed Syndicate this morning in a video trailer on the Assassin's Creed YouTube channel. The description doesn't go into a lot of detail about the Assassin's Creed Syndicate add-on, but a check of the Assassin's Creed website indicates it'll launch in December. We do know that the main Assassin's Creed Syndicate story line and campaign will launch on October 27th on the Xbox One, PS4 and Windows PCs.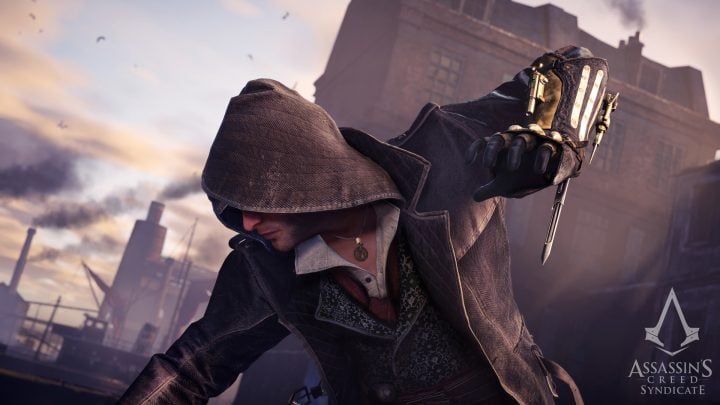 "Jack the Ripper begins his reign of terror in an all-new campaign, available in Assassin's Creed Syndicate Gold Edition," the description reads. The Assassin's Creed Syndicate website reveals that Assassin's Creed Syndicate Gold Edition will cost $89, $30 more than what a regular copy of Assassin's Creed Syndicate will cost. To be clear, Gold Edition includes access to the Assassin's Creed Syndicate Season Pass which unlocks Jack The Ripper.
The Jack The Ripper trailer starts out with a well-dressed Victorian-age woman walking by herself through the dark streets of London. Soon, there's a shadowy figure in a top-hat discussing how much he enjoys his job. We see him in the shadows looking down on parts of London before sneaking up on the well-dressed woman and attacking her with a knife. Foreshadowing the crimes we're going to see in the campaign, scenes in the video also include a butchery shop.
The real-life Jack The Ripper stalked the streets of London from 1888 until 1891. He sliced up victims, killing women then leaving their mutilated bodies for others to find. He was never caught. The Jack The Ripper add-on for Assassin's Creed Syndicate is set 20 years after the events of the main game. It's unclear what role the Frye twins will have in the story. Jacob and Evie Frye are the focus of the main game, which is also set in Victorian England but at the height of the Industrial Revolution. New technology has allowed the wealthy to gain more power, while those working in their factories can barely eek out a living wage. Jacob leads the Rooks, a gang that players must build out and maintain to take on the forces of organized crime and the wealthy in London. The description does note that Jack The Ripper threatens the existence of the Assassin Order. Theoretically, it'll be up to Jacob and Evie to stop him.
Jacob Frye is a street brawler with sword cane and a unique fighting style. Evie Frye has some unique weapons of her own, but is more stealthy than her brother. Players will get to experience the game as both characters. To assist in movement, Assassin's Creed Syndicate includes a rope-launcher mechanic for quickly scaling buildings. Players can also take control of carriages, the first time vehicle play have been included in the Assassin's Creed series.
Read: Assassin's Creed Syndicate: 5 Things to Know
The Assassin's Creed Syndicate season pass also includes The Maharaja Mission Pack, ,a set of 10 missions not coming until 2016. A Long Night is a single mission that'll be available for Assassin's Creed Syndicate season pass holders on release day. Exclusive Steampunk and Victorian Legends weapons and gear are included in the back too, with a launch date sometime in November. Finally, Assassin's Creed Syndicate season pass holders will get to level their characters faster with what Ubisoft describes as a "permanent XP boost." That last one is sure to be controversial since players are paying to effectively unlock weapons and abilities faster than other players.

This article may contain affiliate links. Click here for more details.