bluDANGLE Lanyard Lets you Dangle Your Earpiece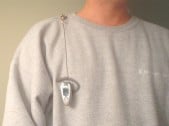 One of the things about BlueTooth earpieces is that there is no getting around the fact that you look like a geek, and I know quite a few folks who won't use them purely because of their own sense of fashion consciousness. Another issue for those who can get over the fashion stigam, is where do you keep the darn thing when it isn't in your ear?
Maybe the bluDANGLE lanyard will solve that. I mean face it, if you have a BlueTooth earpiece you've long gotten past the derisive looks cast your way from the fashion police. So, why not clip this on to your collar and let it dangle and bobble away as you walk to and fro.
Via jkOnTheRun

As an Amazon Associate I earn from qualifying purchases.