Blue Eyeball Webcam and Mic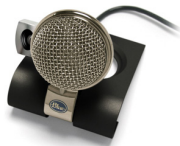 We're big fans of the Blue Snowflake microphone around here both for its audio quality and its small compact size, and so this caught my eye. Blue has come up with a microphone/webcam combination that they are calling the Eyeball. Apparently the webcam will capture HD and is retractable for privacy. Here's a link to Blue's website, but I'm not seeing these listed yet. It looks like the price is going to be $99 for this. If anyone at Blue is reading here's a subtle hint. We'd love to give this a review.
Via Engadget

As an Amazon Associate I earn from qualifying purchases.