Blue Jays vs Rangers Live Stream: How to Watch
The American League Division Series is underway as both Wild Cards are now over with. Here's how to watch the Blue Jays vs Rangers live stream in order to catch all of the action.
The winner of the American League East division (the Toronto Blue Jays) and the winner of the American League West division (the Texas Rangers) will face off against each other to determine who goes onto the American League Conference Series that will eventually determine the winner who goes to the World Series to represent the AL.
The Toronto Blue Jays ended the season with the 5th-best record in the entire league, winning 93 games. The Texas Rangers didn't finish quite as well, winning just 88 games, but it was enough to win their division, and the underdog looks to defeat the Blue Jays, who haven't been in the playoffs since 1993.
The Rangers have more playoff experience than the Blue Jays do, winning their division six times and getting a Wild Card berth since the last time the Blue Jays even made it to the playoffs, but it will simply come down to which team is the better team this year, with the Blue Jays having the edge.
If you won't be near a television or don't have cable, you can stream all five of the Blue Jays vs Rangers games on your computer, mobile device, set-top streaming box, or gaming console. Here's how to watch.
Blue Jays vs Rangers Live Stream
Unfortunately, the only good way to live stream the Blue Jays vs Rangers games is by using MLB.TV, which is a streaming service that provides love coverage of MLB games on a variety of devices.
During the regular season, MLB.TV lets you watch any and all games without needing a cable subscription, just as long as you're not within a blackout area. However, the playoffs are little different. In the US, MLB.TV subscribers will need a cable subscription to watch playoff games, and even then not all American League playoff games are available to stream.
This is a bit of a problem, obviously, but there are ways around it. My favorite method is to use a VPN, which essentially tricks MLB.TV into thinking that you're located somewhere that you're really not. So since MLB.TV restricts US and Canadian users during the playoffs, I can set up a VPN to say that I'm in the UK. From there, it's smooth sailing.
My favorite VPN service is Unblock-Us, and we've detailed how to set it up in the past, so be sure to follow that guide. Unfortunately, it doesn't work on iOS devices with MLB.TV, and I have yet to find a VPN that will work with both iOS and MLB.TV. However, I've been streaming games on my PS4 and it's been working great.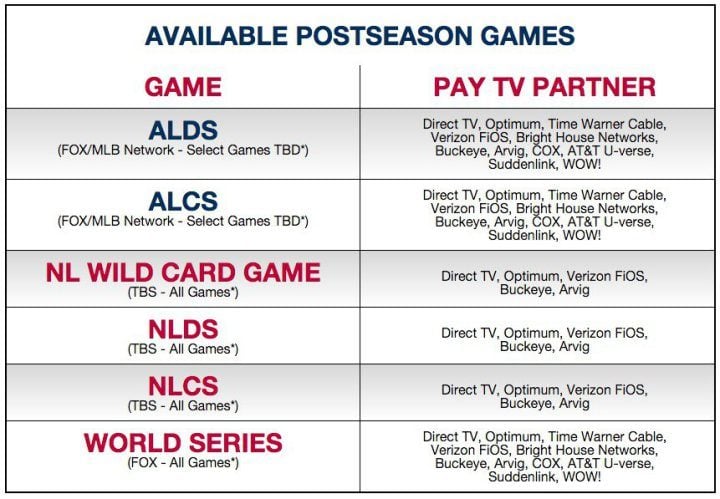 Essentially, you'll sign up for Unblock-Us, which costs around $5 per month, and then quickly change the DNS settings on the device of your choice.
From there, you'll need an MLB.TV subscription if you don't already have one, which is $9.99 for the entire playoffs, and it even includes all Spring Training games next year.
Without a VPN service, you'll only be able to watch a handful of playoff games and only if you have a cable subscription, and you aren't in a blackout area. US and Canadian users won't be able watch select games from the American League Division Series and Conference Series.
However, MLB.TV is the most reliable service by far for watching live baseball games, and while it does have its fair share of problems at times, it's still 100x better than those sketchy streaming sites that are plastered with ads.