BlueBeam PDF Revue v5.5 Features PDF Text Editing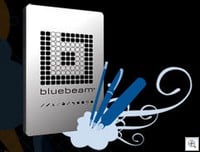 My favorite PDF software for my Tablet PC (or any PC for that matter), BlueBeam PDF Revue has just released version 5.5 which includes, among other improvments, PDF Text editing that allows you to add, delete, or replace existing text in a PDF.
There are a host of other new features (see below) as well as more good news. If you have a version 5 license you can upgrade for free. There is a 30 day free trial of the new version.
PDF Text Editing: add, delete or replace existing text in a PDF

Review Text: underline or strikethrough text to be correcte in the original document

Faster Speed: PDF creation, loadiing and rendering is faster than ever

Dynamic Default: Revu remembers color ande other property settings automatically for efficient PDF markup

Horizontal scrollbar: Easier document viewing

MultiView: View up to sixteen tabbed views simultaneously

Copy Page: Insert Duplicate pagess into your PDFs

AutoCAD LT 2008 Compatibility
Here's the link for the download and here's a link for pricing. I haven't given this a try myself yet, but plan on doing so soon and reporting back here.

As an Amazon Associate I earn from qualifying purchases.