Bluetooth Group Outs Nokia Lumia 719
Nokia's Windows Phone portfolio is growing as the company is looking to add even more Lumia devices to its lineup. The traditional Symbian phone-maker is prepping to launch a Windows Phone Lumia 719 smartphone as the device has just gained Bluetooth approval from the Bluetooth Special Interest Group. At this point, other than Bluetooth being on the device, it's unclear what the full hardware specs are for the Lumia 719. With the approval happening just in advance of the Mobile World Congress trade show in Barcelona, Spain later this month, the device could potentially see an announcement at that time, approximately a year after Nokia CEO Stephen Elop had stunned the world by announcing that the company would switch strategies and adopt Microsoft's mobile operating system.
At this time, the Bluetooth Special Interest Group reveals that the device is slated for release in Asia, North America, and South America. Basic specs for the Lumia 719 listed appear comparable to the Lumia 710, which was announced at Nokia World in October 2011, and include a 3.7-inch CBD display, 5-megapixel rear camera with HD video recording, and Nokia's bundle of Windows Phone apps.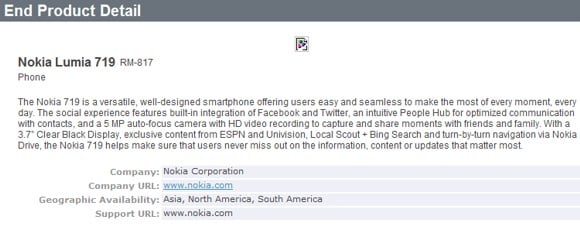 Potentially, the Lumia 719 may be a variant of the Lumia 710 adapted for different carriers. So far, only two U.S. carriers have either announced or is selling a Nokia-made Windows Phone 7 device, and those include T-Mobile USA with the Lumia 710 and AT&T with the LTE-capable Lumia 900. So far, neither CDMA carriers–Sprint and Verizon Wireless–have announced any new Windows Phone offerings or Nokia Lumia phones.
If the Lumia 719 is a Lumia 710 variant, it should be a more budget-friend device.
Nokia is also rumored to be launching an even more economical Lumia 610 model at MWC.
Via: Unwired View

This article may contain affiliate links. Click here for more details.