Boingo Wireless has a deal for you!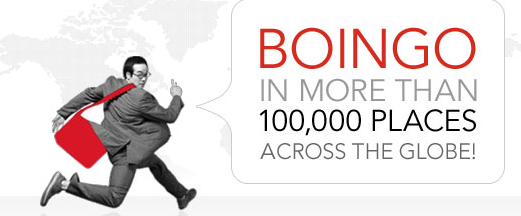 For those folks who travel frequently, you know the value of solid Internet connectivity wherever you go, especially when you are stuck at the airport.  If you were lucky to be at one of the Google sponsored airports this holiday season, you had all the WiFi access you want for free. But, the holidays are over and once again WiFi access is money.  Very few airports offer it for free anymore– unless you are a student (like in Philadelphia) , or its just free (like Tampa).  So, what is a traveller to do?
Option one is a cellular modem or a MiFi. But, if you cant go that route, there is always Boingo Wireless.  Boingo has been around for some time now.  To quote their web site:
Boingo is the world's largest network of Wi-Fi hotspots. We make it easy to get online at more than 125,000+ hotspots worldwide – including Starbucks®, hundreds of airports, and thousands of hotels. Whether you're connecting on a laptop or smartphone, Boingo has a plan to keep you connected on the go!
And now, Boingo is offering their Boingo Unlimited plan for 50% off!  Its now only $9.95 per month.    It allows for unlimited (no cap) WiFi access on a laptop in the USA.
This isnt too shabby and beats spending up to $60 per month for MiFI and cellular modem service.  All that is required is loading their software onto the laptop, and off you go.
Is this for everyone?  No.  But if you are a frequent traveller, this deal from Boingo may help you fly the friendly skies a lot easier.

This article may contain affiliate links. Click here for more details.