BookBook For iPhone 5 Review: A Classic Wallet Case for iPhones
The BookBook from TwelveSouth is a wallet case for the iPhone that makes the iPhone looks like a miniature vintage book, and the iPhone 5 version makes some great improvements to an already great case.
To make the iPhone 5 look and feel like a vintage book, the BookBook for iPhone 5 covers the phone in leather. The leather feels great in the hand, and looks even better. Over time the BookBook's leather will take a few scratches and scuffs from use. While the effect may put off some users, the wear and tear adds some character to the case, which others will like.
Unlike the previous BookBook which held the iPhone 4/4S with straps of leather, the BookBook for iPhone 5 holds the phone in place with plastic pieces around the sides of the device. The plastic holds the iPhone 5 securely, and has a leather texture on the outside so it matches the rest of the case.
The BookBook for iPhone 5 also adds a camera hole, which was missing from the iPhone 4 version. The hole is wide enough to not interfere with the camera or flash. The front flap of the case can interfere however.
The BookBook makes taking photos a two hand affair most of the time. One hand holds and controls the phone, and the other keeps the flap out of the way. It's still possible to take photos with one hand, but it requires some creative hand gymnastics.
Taking video is much easier because the flap can hang down while shooting in portrait mode. Shooting a Vine may require two hands, however.
The front flap of the BookBook for iPhone 5 holds up to four cards and some cash or pieces of paper below the cards. The case also includes a clear viewing pocket for an ID card. Filling the case with cards makes it a bit thick, but never too thick to fit in a pocket. It's difficult to put more than a few bills beneath the cards, however, as too many will make the case far too thick and hard to close.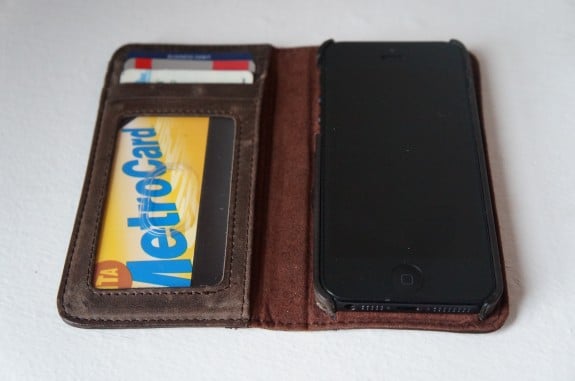 The BookBook for iPhone 5 won't protect the iPhone 5 from high drops, but it will help protect the iPhone from scratches (credit cards won't scratch the screen).
Overall, the BookBook for iPhone 5 is a great case for anyone who wants to consolidate their phone and wallet. As many will point out, it means losing both of those at once if does get lost. But for those who aren't afraid of that, the BookBook is the best wallet case available for the iPhone 5.

This article may contain affiliate links. Click here for more details.