Boost Mobile Offering Cheapest Price Yet for iPhone 5s, 5c
As part of a holiday promotion, new customers to Sprint prepaid subsidiary Boost Mobile will be offering the iPhone 5s and iPhone 5c for as much as $200 cheaper than Apple's traditional retail price for a contract-free iPhone. The prepaid, contract-free carrier already offers both new iPhone models for 2013 at a price of $100 less than what Apple is charging, and new customers to Boost Mobile–you would have to switch from another carrier–will be getting an additional $100 off of the iPhone on top of Boost Mobile's normal low pricing.
According to the carrier, the additional $100 discount for new customers who are switching to Boost Mobile is a limited time promotion that will last until November 24th. Those who are interested in rocking either the iPhone 5s and iPhone 5c for the holidays may want to consider Boost Mobile.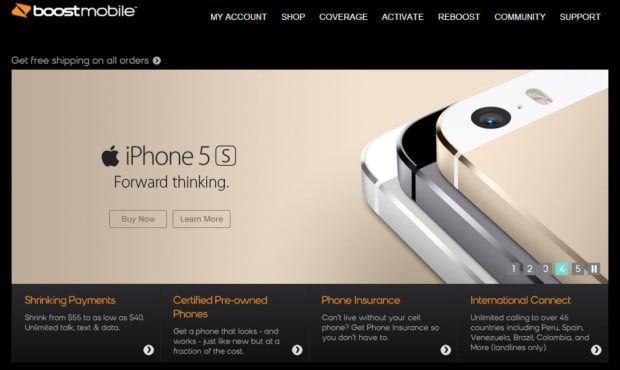 This means that the 16 GB iPhone 5s will start at $349 with Boost Mobile's promotions applied and without a contract needed. The phone would normally retail for $649 contract-free or $200 with a two-year contract from the major carriers, including Boost's parent Sprint as well as through AT&T and Verizon.
The carrier operates on Sprint's nationwide 3G and 4G network, so coverage should be robust, though Sprint's 4G LTE footprint is still far more limited than that of rival carriers AT&T and Verizon.
In terms of plan pricing, Boost Mobile's plans start at $55 per month. You do not have to sign a two-year contract so customers traditionally have to pay for full retail prices of smartphones. However, with on-time payments, price for service could drop down to as low as $40 per month, where you'll get unlimited text and talk and 2.5 GB of 4G data. After you consume your monthly data, you won't be charged overages, but you will be throttled.

As an Amazon Associate I earn from qualifying purchases.