Borderlands for iPhone and iPad Coming This Month
A Borderlands game is coming to the iPhone and iPad before the end of October according to an image in the digital strategy guide for Borderlands 2.
The ad in the strategy guide was found by a gamer on the official Gearbox forums, and later confirmed by Kotaku. The ad describes a game called Borderlands Legends which lets users play as the characters from the original Borderlands game. The ad says the game will let players "take out the oncoming waves of enemies."
Borderlands Legends will feature randomized missions which should make it easy to play for hours. Like the console versions of Borderlands, Legends will include thousands of different weapons. In the console games those weapons include anything from pistols to submachine guns and sniper rifles with various stats and modifiers like explosive or elemental ammo.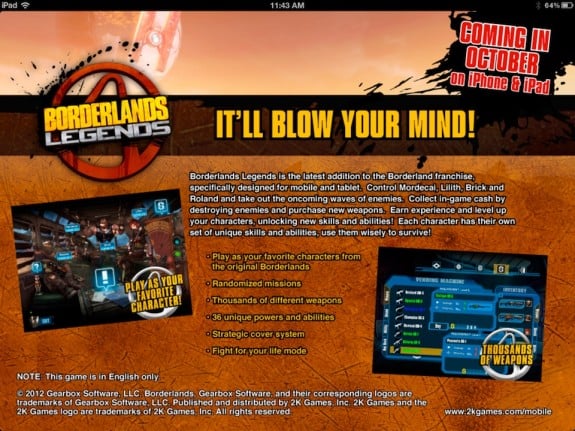 The new games will also feature 36 unique powers and abilities. That's nine special powers for each of the game's four characters: Mordecai, Lilith, Brick, and Roland. The original Borderlands had more special abilities per character, but the mobile game is likely more streamlined than the original game.
It's not clear if the iPhone version will have the same open world as Borderlands on consoles, but it seems doubtful. More details about the game will likely emerge as the end of October draws near, unless 2K Games delays the game for some reason.
The ad includes a link to 2K Games' mobile game website, but Borderlands Legends is nowhere on the website. The website, however, looks like it wasn't updated in quite some time, it stills lists NBA 2K12 as the most recent version when NBA 2K13 came to the iPhone and iPad earlier this month.

As an Amazon Associate I earn from qualifying purchases.