Bose Bluetooth Headset – Expensive as usual, No Problem.
Expensive or not, I enjoy Bose products. I chose a Polk Audio set up in place of the Bose AM series for my home entertainment needs, but I have Bose desktop speakers on my PC and my kid's PC. They have the Companion 2 series and I have the Companion 3. I love them and when I choose to wear big headphones, as opposed to ear buds, I use my Bose headphones. That said, I am not afraid of paying a premium for Bose products. If you want to grab this new Bose Bluetooth headset, you better be willing as well.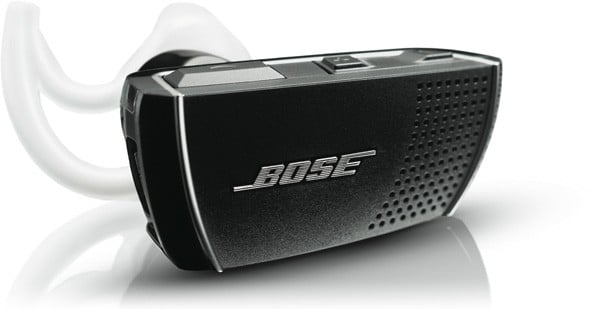 Today, Bose has introduced its first single-ear Bluetooth headset — the new Bose Bluetooth headset. Using proprietary technologies, the new Bose Bluetooth headset lets users hear and be heard — even in changing noise environments. Featuring a unique design and user interface, the Bose Bluetooth headset stays comfortably and securely in place, and makes call control easier than ever before. The resulting experience is unrivaled in the vast marketplace of Bluetooth mobile headsets.

The Bose Bluetooth Headset features enhanced Bose TriPort acoustic headphone structure, now optimized for speech reproduction, and new Bose Adaptive Audio Adjustment technology — an advancement that measures incoming speech and background noise, and adjusts voice levels automatically and smoothly. These innovations work together to ensure what a user hears remains consistent when moving between quiet and loud places — without changing the volume controls.
Is this for real, Bose Bluetooth headset, really? Let's check…
Expensive: Check
Fancy buzzword: Check (TriPort acoustic headphone structure)
Ascetically pleasing: Check
They will be available for $149.95 in late November, so start saving. You can grab one authorized Bose dealers, Bose retail stores, and Bose.com. If it works better than the Jawbone or Plantronics Discovery 655, I will definitely give them a sale. How about you? Would you spend $150 for a Bluetooth headset? I rarely use them myself, only in the car if I expect to be on a long call during a decent commute, but when you have to have one, you have to have one.

As an Amazon Associate I earn from qualifying purchases.