Why I Bought an HTC One the Day Before the iPhone 5S Announcement
Earlier today Apple shocked absolutely no one in their announcement of the new iPhone 5S and iPhone 5C. I bet we'd not see anything that interesting that wasn't already rumored, so yesterday I bought a new phone the day before the announcement. All the rumors amounted to a terrific yawn, so I chose to buy an HTC One instead of wait for the iPhone 5S or iPhone 5C.
Apple events were once steeped in secrecy, but thanks to all the rumors, leaks and information coming out of the factories in China and Apple developer leaks, Apple no longer charges up even the biggest Apple fan with the emotion we saw with the launch of the iPhone in its early generations and the first couple of iPads. Apple fans who want to know all about the phone get their pleasure by reading sites like GottaBeMobile. We posted about nearly every new feature announced, including the new accessories.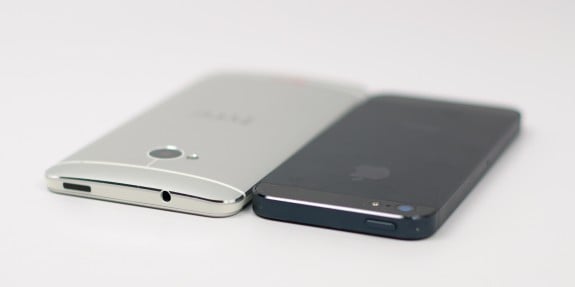 Here's a list of what we already knew:
The iPhone 5S would look like the iPhone 5
An iPhone 5C with a plastic back would come in many colors
iPhone 5S would hit in gold to go along with the black and white
The colorful iPhone 5C would show up with matching cases
iPhone 5S would run faster
It would offer a better camera
It would come with a fingerprint reader
None of what we knew led me to want to upgrade my iPhone 5 that I use as a second phone.
The Samsung Galaxy S4 disappointed me. At first I loved it, and even gave reasons why people should choose it over the HTC One. Many of those reasons still concern me, but I wanted the more elegant hardware the HTC One offers. Without all the whiz-bang software features on the Samsung Galaxy S4 it feels like an ordinary slab of plastic and glass. I seldom used the multiple windows which show two apps at once. I never used the gestures the let users swipe above the screen to answer it. The camera goodies helped me get some great shots this summer, but most of those come on the HTC One camera. Apple put a few in their camera, but when the HTC offers them, why wait?
As a Mac user and iPad lover, I wanted Apple to prove me wrong so I could return the HTC One and pre-order an awesome new iPhone. But there's no wider screen to go with the longer one we got last year. iOS 7 still doesn't allow for customizing the phone's keyboard. I like the new control panel that swipes up from the bottom in iOS 7 but Android users can put most of those features on their home screen, or in a different launcher without rooting the phone.

As an Amazon Associate I earn from qualifying purchases.