Box Wants to Pull Me Away from Dropbox – Offering 50GB Free and an Update for Android
Apparently Box is trying to get me to switch from Dropbox. Box is giving Android users, new and existing, who log into Box with their Android phone or tablet over the next month, 50 gigabytes of free storage. That is a massive amount of free storage.
I have been using Dropbox for my personal cloud storage needs. I only have 2.5GB available, but it's plenty for what I use it for. The biggest complaint I have had with Dropbox is that there is no Windows Phone app available. Box has the same issue. According to a quite on GigaOM, Box has no plans to support Window Phone until it gains traction.
At Box, we want to make it dead simple for our users to share and collaborate on business content from any device. We've invested aggressively in building amazing experiences on iOS and Android because those are the platforms our customers are using, but we're always tracking adoption and demand, and will support Windows when we see it get traction in the organizations we serve.
That's unfortunate for me since I am looking for a solultion that works on all my screens, desktop, laptop, Android phone, Windows Phone, and iPhone. I want to have the ability to access these files from anywhere, no matter what phone I am using today. I will be honest though, offering that much storage makes leaving Dropbox a no brainer and I will be making the move right after I post this. I just hope that they eventually support Windows Phone, at least before Verizon gets a suitable Windows Phone for me to use as my daily driver.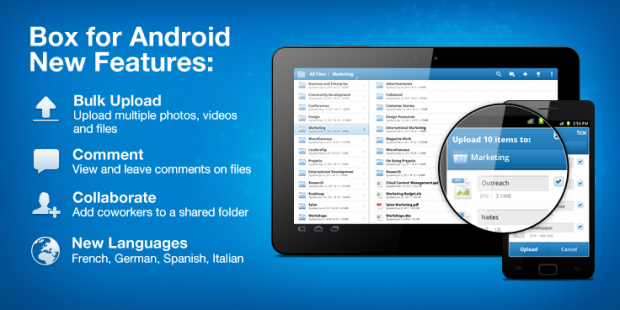 The extra allotment for Android users comes along with an update of their Android app to v1.6. This update adds features that set it up to work more like Dropbox. You can now Invite people to your folders, View and add comments to files, Upload multiple files and monitor progress, and offers additional language support.
If you are an Android user and you want 50 GB, make sure to take advantage of this offer soon.

As an Amazon Associate I earn from qualifying purchases.