Boxee TV With No Limits DVR Streams Recorded TV to iPad & More
Today Boxee announced its new device, the $99 Boxee TV which lets users watch live basic cable and record shows in the cloud to watch on an iPad as well as other tablets or smartphones.
The new Boxee TV lets users watch TV over unencrypted cable signals or an HD antenna and record shows from either signal. Like the previous Boxee Box the new Boxee TV also offers access to services like Netflix, Vudu, Pandora, and more.
The Boxee TV includes a DVR service called No Limits DVR that lets users record up to two shows at once using the device's dual tuners. The DVR service costs $15 a month, but it lets users watch their recorded content on any device including tablets, laptops, smartphones, and the Boxee TV itself.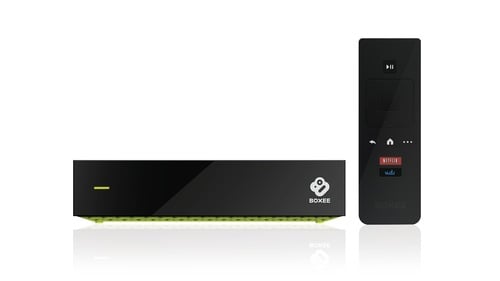 No Limits DVR is only available in the top eight TV markets in the U.S. which are: New York City, Los Angeles, Chicago, Dallas, Houston, Atlanta, Philadelphia, and Washington D.C. Boxee hopes to bring the service to other cities in the U.S. starting next year.
The Boxee TV won't work with cable channels like Comedy Central, ESPN, or AMC, but it does offer access to broadcast networks like ABC, FOX, NBC, CBS, PBS, and Univision. It's not really a device made for cable subscribers, but more of a way to help cord cutters get broadcast networks on their TV and iPad.
The Boxee TV is arguably a competitor to Aereo, the service that streams broadcast TV to a laptop of iPad for a monthly fee. Unlike Aereo, however, Boxee TV is available to users outside of New York City. The Boxee TV will go on sale in November.