BoxWave iPad Stylus Takes the Lead in My Inking Testing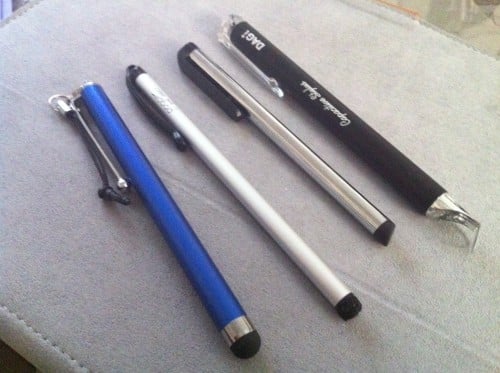 As I've been continuing my reporting on Inking with a stylus on the iPad, I've been anxious to check out some newer styli (at least newer to me.) Today I received the BoxWave Apple iPad Capacitive Stylus and I have to say this is the best stylus I've tried so far in terms of laying down some Digital Ink.
I checked it out in both Penultimate and Noterize. Using Penultimate and its Wrist Protection this is the closest Tablet PC-like Inking experience I've found so far on the iPad. It is not perfect by any means, but this feels very, very familiar to me. Using Noterize, (which also has Wrist Protection or Palm Rejection) it is also a very good experience, although there were some stray marks caused by my hand that I don't see when I use the Pogo Sketch, and the experience is not as effortless.
This is purely subjective here, but I think the material used for the tip on the Box Wave stylus and the tighter construction of it is what is yielding a better experience for me.
As I'm hearing from others on this topic, I'm beginning to think that the choice of stylus and App and Inking styles all play in to what works best for any given individual. I think the nature of our bodies and hands also plays a role. There should be no surprise for any Tableteer as we've always said that Tablets put the personal back into personal computing, and that what works for one may not work for another.
But for now, I've found a much better stylus solution (Steve Jobs eat your heart out) for me. The BoxWave Stylus is a little on the pricey side at $20.95, but it is a price I'm glad I paid. You may see it differently. (In the gallery below The Boxwave stylus is the blue stylus in the picture. Noterize is the App with they yellow lined page.)

As an Amazon Associate I earn from qualifying purchases.