Braketron Universal GPS Car Mount Works Well with Phones Too
In our house my wife uses an iPhone 3GS and I have a Samsung Infuse 4G. As a result a universal mount for our Honda Pilot, which we both drive, becomes a must. About the time that my favorite car dashboard mount began to wear out, Bracketron sent me their Universal Mount so I thought I'd give it a go and I'm glad I did. It works well.
Features
The mount attaches to the windshield of your car via a suction cup that holds very well. I've tried other suction cup mounts and they often fall off in extreme heat, something I see a lot during the summer months in North Carolina. The long extension arm gives even a shorter person enough length to reach the phone when attached below the rear view mirror. The arm also bends to sit at the right angle for you.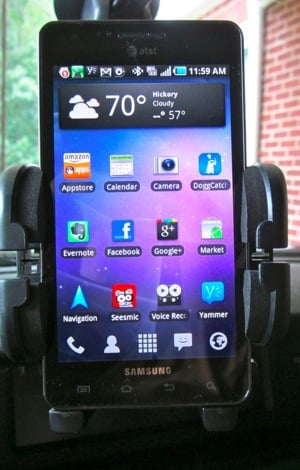 The part that actually holds the phone has a soft back to keep it from scratching your phone. On either side of the phone two half circle arms hold the phone. You can adjust them to fit your phone's width. It can spread as wide as a GPS unit, which is what they actually designed the thing to hold. The arms each split apart to hold a taller device or slide together for shorter devices.
The phone, or other device, rests on a pair of feet that rotate so that they can either be hidden or out for the phone. On the back of the holder is a dial that adjusts the tension of the holder. The holder can swivel on a ball connector and the dial tightens to keep it in place at the right angle or loosens so you can change it. That lets more than one person adjust and use it.
A button on the bottom releases the two arms that hold the phone tightly in place. When you release it the phone comes out easily. Put your phone back in the holder and pinch the two arms together to hold it snugly.
Recommendation
The whole mounting system works well and can be configured to truly be a universal holder. The nice long arm makes it useful in larger SUVs like my Honda Pilot.
I am pleased with it, with only a couple of exceptions.
The system feels a little flimsy. Made of plastic, I fear that it could fall apart if a user gets a little bit rough with it. Also the dial that tightens that ball connector feels like it could easily be overtightened and break. I wish Bracketron would have used stouter materials and charged just a little more for the whole mounting system.
At only $29.95 I can recommend this mount, since it is not that expensive. But be careful with it. I still think you are better off with a car mount made for your specific phone, but for those who use more than one device this system will do the job at an affordable price so long as you are careful with it.
Video Review
Pros:
Strong suction cup
Long arm fits large cars
Holds many devices
Holds them firmly in place
Cons:
Feels flimsy
Plastic could break easily
Dial on back of holder can't be tightened as much as I'd like

As an Amazon Associate I earn from qualifying purchases.