Brando Folding BlueTooth Keyboard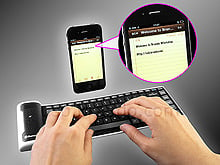 Back in the UMPC days we saw a number of interesting BlueTooth and USB keyboard designs that included rigid form factors as well as flexible ones. With the advent of the iPad and the potential for all of those Tablet/Slates we keep hearing about, we're sure to see a resurgence of BlueTooth keyboards, and to some extent we already are. I've been content to use my iGo Stowaway BlueTooth Keyboard since picking up the iPad. It is a great piece of kit for my arsenal, but sadly it is no longer manufactured, but you can still find them for sale if you look. Now that Apple has included support for BlueTooth keyboards in iOS4, I could also use the Stowaway or another such keyboard with the iPhone should I need or want to.
But there are other alternatives out there. I recently came across this foldable (or is that roll-able) BlueTooth keyboard from Brando. From the looks of the pictures on the product page, the device is made of silicon, and can be rolled up to tote around. It costs $40. I'm content with m solution at the moment, but if anyone tries this out, let us know how you like it.

This article may contain affiliate links. Click here for more details.