Braven BRV-X Speaker is Made for Camping & Charging Gadgets
Braven unveiled a host of new portable and extremely rugged Bluetooth speakers this week at the Consumer Electronics show. Promising to finally offer exceptional sound in a portable outdoor speaker that can handle any and all elements.
Everything from dirt, water, rain, to even being strapped to a mountain bike so users can stream tunes from an iPhone or Android device while flying down a mountain-top. Braven is no stranger to outdoor speakers, but they've delivered plenty of new options to kick off 2014 here at CES. Not to mention a model that can easily hang on the shower curtains or anywhere else you need audio on the go.
Braven's modern boombox options are good looking, rugged, durable, and as portable as ever, and this year the company is focusing on a few different areas. One in particular is the new Braven BRV-X which the company calls "the First True Outdoor Speaker" simply because it's completely designed with the outdoors in mind.
Not all gadgets are created equal, and most speakers don't do well when wet. Braven though, has an IPX5 certification and the BRV-X is completely weatherproof. It's also shockproof thanks to the high-impact plastic casing which is housed under a layer of rubber around the entire speaker. And that's just the exterior, the interior and settings have even more options to help when you take it outdoors.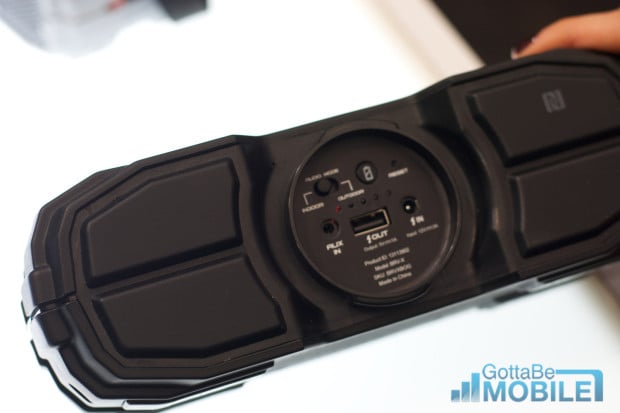 Braven confirms they've added improved HD drivers with excellent sound and bass reproduction with omnidirectional passive bass, and the new "outdoor mode" aims at delivering loud and clear sound in an open-air environment. At least according to the company. Everything is controlled from the rear, which can be secured to keep water out as promised, then the frame was designed with straps in mind to mount this speaker to your car, boat, mountain bike, or anything else for that matter.
Easily paired to a smartphone or tablet with Bluetooth or easy tap NFC pairing, you'll be streaming music for what the company promises is 8 hours of playback. Then one of the best features is while you're our camping and happen to need some power for a smartphone, the Braven doubles as a powerbank and will charge smartphones and tablets via USB.
No exact details on pricing or availability have been released, but it should be priced similar to past products.