Brief video on the Medion RIM 1000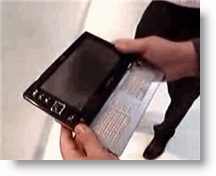 CTitanic has spotted a brief video of the Medion MD RIM 1000 Ultra-Mobile PC I reported on yesterday. As he states, there is not a lot of information to be derived from it, but it does show the unit and the sliding keyboard action.
Having used the TabletKiosk eo i7210 for just a day or so, I admit that I do feel that "need a keyboard" urge a time or two, but we need to keep in mind that the usage scenarios are quite different here. In my mind, there just really needs to be more development efforts into alternative input for text. I still definitely see where that keyboard would be a plus at times though.
Make the jump to his site to view the video!
Source: Ultra Mobile PC Tips

As an Amazon Associate I earn from qualifying purchases.