Britten Sinfonia Musicians Replace Sheet Music With Tablets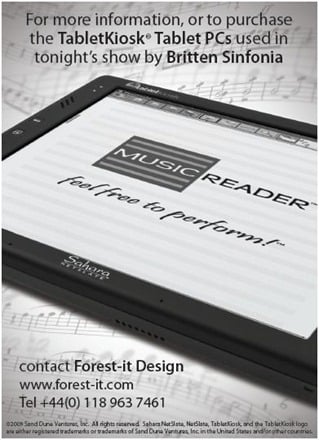 Three Britten Sinfonia soloists will be using TabletKiosktablets instead of sheet music during an upcoming run of concerts. The Sahara NetSlate a230T tablets will be at the top of a custom stand and page-turning pedals will be placed at the bottom. Leoné MusicReader is providing the software for the project.
A lot of musicians are ahead of the curve when it comes to technology and I'm guessing that the musicians will prefer the tablet solution to sheet music. Managing sheet music can be a real chore and this solution makes a whole lot of sense. I used to play music several hours a day and always hated dealing with sheet music. Page turning was a pain, I couldn't read my own annotations and dropping a few dozen sheets on the floor was especially fun.
If you're in London, Norwich or Cambridge you can check out the "Dialouges" series and the tablets in action yourself.