Build your own massive multi-touch display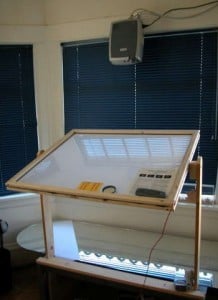 How many times have you been kicking back at home wishing you had your own 30+ inch multi-touch interactive display? If you're like me, that's every night right after The Daily Show (which for some reason is not a daily show). Well, good news: if you've got an lcd projector, a couple hundred bucks for components, and a degree of mechanical aptitude, you can make one yourself.
Instructables has the whole breakdown complete with step-by-step instructions and a video demonstration of their homemade interactive multitouch display. The design is based on a paper presented by Jefferson Y. Han at the Proceedings of the 18th annual ACM symposium on User interface software and technology (who has posted a video demo of his own if you're interested).
Requires a bit too much work for me to put together, not to mention a workshop with tools and stuff (and a projector), plus I have no space for one anyway, but if I wasn't lazy and had all that stuff (and mechanical skills), I'd build one tomorrow. Sure, I could get one of those new multi-touch displays or desktops instead, but I think their big drafting table-looking display looks really cool. Excellent work, people.
Via Lifehacker