BumbleBee-Tablet PC Spectrum Analyzer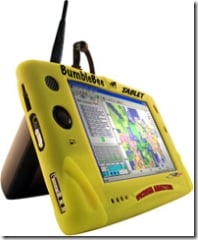 This sure is an interesting device… Spectrum analyzer packaged in a UMPC. Looks like a Samsung Q1 under the hood, what do you think??
"BumbleBeeâ"¢-TABLET is a Windows XP ® tablet UMPC spectrum analyzer all-in-one system. The calibrated receiver measures a combo of popular wireless bands including Wi-Fi, Wi-MAX, ISM, Public Safety, Bluetooth and more. BumbleBeeâ"¢-TABLET's interface offers a large 7″ WVGA LCD touch-screen featuring Intel Pentium ® processor. In addition, the tablet UMPC has an internal 40GB HDD for instant storage and playback of all captured RF spectral network installation, coverage and interference analysis data in the field. Advanced spectrum analysis features include user selectable power triggers, 3 pairs of markers, spectrogram, histogram, video smoothing, waveform averaging, 1 live trace and up to 4 peak hold waveform traces with peak hold & peak search. BumbleBeeâ"¢-TABLET takes the power of sophisticated laboratory spectrum analyzers and delivers it to installers in the field and engineers in the lab."
RF Spectrum Analysis In Your Hands or on Your Desktop

Identify WiMAX, RFID, Wi-Fi, 802.11 & Other ISM Interference

Large, 7″ WVGA, Touch-Screen Interface

Windows XP UMPC Intel Pentium Tablet

40 GB HD Storage

Channel Power Measurements in dBm

Peak Search/Hold With Up To 4 Peak Hold Waveform Traces

User Selectable Power Triggers

Spectrogram/Histogram Measurements

Waveform JPEG Snapshots with Preview & Printout

Optional Directional Antennae for 900 MHz, 2.4 GHz or 5 GHz Frequencies

Honeycomb Interference Mapping Software Support

As an Amazon Associate I earn from qualifying purchases.