Bungie Kills the Loot Cave in Destiny
As some expected, Bungie, the developers who've spent the last few years building the Destiny first-person shooter and role-playing game, has shutdown the so-called Loot Cave that Destiny players have exploited to great effect lately.
An announcement about the Loot Cave, or Treasure Cave as Bungie called it, was included in the patch notes for the Destiny upgrade that started going out earlier today. In typical Bungie fashion, the note doesn't actually come out and say that the Loot Cave has been killed in the game.
"The Hive of the holy Treasure Cave have realized the futility of their endless assault on Skywatch and have retired to lick their wounds and plan their next attack." In so many words, Bungie is cutting off the endless supply of character upgrades that users could get from the cave. Those who took advantage of it will have to find some other way to exploit systems for more loot in Destiny.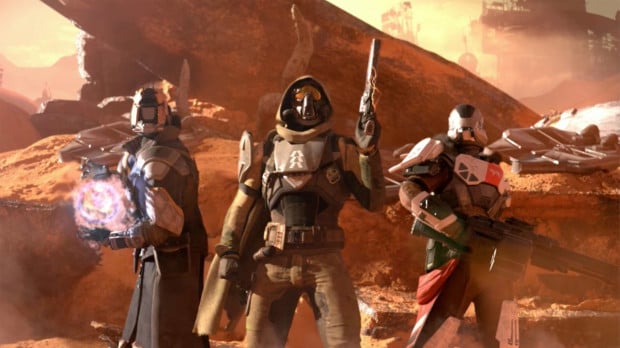 Word of the Loot Cave starting spreading after Destiny launched earlier this month. Destiny requires that users stay committed to the game to earn better gear for their characters. Destiny players were able to get weapons and power-ups more easily than if they'd have simply worked for them the way Bungie intended. In making this change Bungie also confirmed that missions would continue to grant players legendary items.
Destiny, which launched earlier this month, heavily relies on loot and more powerful weapons as incentive to build characters and invest in the game. That's why Bungie fixed the Loot Cave exploit. This loot system and character customizations are part of what sets Destiny apart from other first-person shooters. Another thing that set Destiny apart from just about everything are the events that are periodically held in the game. During the Destiny Beta players got the chance to visit Mars. Now a new limited time event is being held in the game.
Called The Queen's Wrath, players who perform special bounty missions will be rewarded for their hard work. The Queen's Watch will have three different tiers. The first will unlock a special emblem, and a 10% boost for any reputation users earn during the event. Users who reach Rank 2 can look forward to new armor items, 242 attack rating and the same stacking 10% bonus and some rare quality weapons. Finally, Rank 3 will offering rare quality weapons, a 267 attack rating and more emblems and shaders.
Destiny players will have until October 6th to complete this special event. At that point, the event will end and the unlocks will be presumably gone forever. Like other in-game events in Destiny, this won't cost users any extra money. It's simply a really cool way to earn new content and play online. These events are designed to boost community participation and keep the social element of Destiny alive. Online role-playing games on the PC often use this same technique to keep their communities alive and vibrant.
Destiny also includes special raids that users must build and maintain a team to complete. Called Raid, coordinating plans makes these missions something users can finish, not working together well with a team can easily end in disaster.
Read: New Live trailer Arrives as Destiny Release Looms  
Destiny is available for purchase on the Xbox 360, Xbox One, PS4 and PS3 now. Base copies of the game start at $59.99, but other versions of the game include access to forthcoming expansion packs and extra content. Anyone considering purchasing a special edition version of Destiny for that extra content should keep in mind that an exclusivity deal with Sony means Xbox One and Xbox 360 players won't be able to get some content until the fall of 2015, even though they're paying the same amount as PlayStation users.