Buy 200GB on Picasa and get an Eye-Fi card to fill it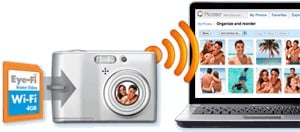 If you're an avid photo and video sharer or looking to become one, Google has a deal for you: sign up for 200GB of web storage at $50 a year and they'll send you a 4GB Eye-Fi Home video SDHC card for free. Just slide that card into your compatible camera, snap away, and your photos and video will upload automatically to your Picasa web album via wifi.
Also included as part of the paid storage plan are geotagging and share services, which normally cost extra for the Home card. No strings for the first year, but thereafter it applies only if you use Picasa for sharing. Quite a good deal considering you can cancel or downgrade the paid service after the first year, though if you haven't pushed your Picasa web album to the limit by then, 200GB is obviously more storage than you needed. Presumably though, they're expecting plenty of users to want to maintain and increase the (self-perceived) awesomeness of their Picasa web albums. Caveat: Valid only in US and Canada for first-time buyers of paid storage.
Via jkOnTheRun

As an Amazon Associate I earn from qualifying purchases.