Buy A Windows Phone From Amazon, Get A $25 Gift Card
If you have been looking into getting a smartphone powered by Windows Phone 7 on any of the big four U.S. mobile carriers, then you probably want to take a look at the offer that Amazon is hosting right now through June 30th.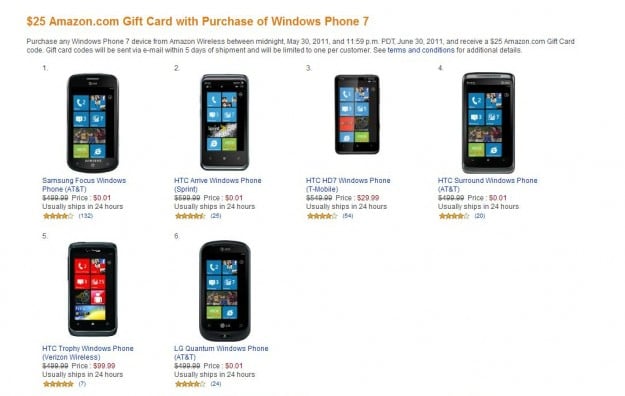 Windows Phone 7 devices at the online retailer, some currently as low as a penny, will be coming with a $25 Amazon gift card which will be sent by email five days after the purchase is made. Amazon's deal includes Verizon's new HTC Trophy, Sprint's relatively recent HTC Arrive, as well as some of the old favorites like AT&T's Samsung Focus and T-Mobile's HTC HD7.
Sadly, it doesn't look like AT&T's upcoming HTC HD7s will be included in the offer, although that could change once it's released on June 5th. If you're interested in Amazon's deal – and you should be if you're going the Windows Phone 7 route – you can find the phones and the deal right here.

As an Amazon Associate I earn from qualifying purchases.