Buy Two Avengers Digital Comics, Get $30 Off a Nook Tablet
Comic book fans who want to go digital but don't want to buy an iPad or read comics on their phone have a great new opportunity to get a discount on the Nook Tablet. Barnes & Noble is offering a $30 discount on the Nook Tablet to customers that buy two Avengers digital graphic novels.
The Barnes & Noble deal extends to the retailer's website and brick-and-mortar stores. Those who buy the digital comics in store can buy the discounted Nook tablet in the same purchase. Buying online is a slightly different process.
(Read: Nook Tablet Review)
To get the discount online, users need to buy two digital graphic novels from the collection of 20 titles. After buying the comics, buyers will get an email from Barnes & Noble within 24 hours instructing them on how to buy the tablet at the $30 discount.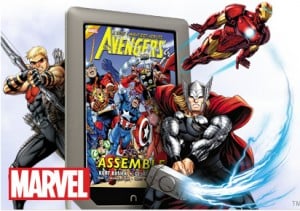 The discount applies to both the $199 8GB version and $249 16GB version of the Nook Tablet.
The titles in the Marvel collection range in price from $6.99 to $14.99. For the biggest discount, you can buy both "New Avengers, Volume 2: The Sentry" and "Dark Avengers, Volume 2: Molecule Man" for $6.99 each. That will save you about $15 on the final purchase of the Nook Tablet.
If you're looking for some background on the characters that are in the Avengers movie that comes out soon, you'll want to pick up "The Avengers" by Stan Lee, Jack Kirby, and Don Heck. The collection has some fo the early comics of the team, and includes Iron Man, Captain America, The Hulk, and Thor. The early comics still hold up largely thanks to Jack Kirby's fantastic artwork.
Barnes & Noble has a large collection of Marvel comics in addition the 20 that are part of this offer. Barnes & Noble doesn't have DC Comics graphic novels, which are only on the Amazon Kindle Fire.
Both devices also support the Comixology app that offers the newest comics from both DC and Marvel as well as smaller publishers like Image and Dark Horse.

As an Amazon Associate I earn from qualifying purchases.