Buy the Unlocked HTC One for $0 Down from HTC
Users who want an HTC One, but aren't fans of two-year service agreements with their mobile carrier, can now apply to have the device financed directly through HTC itself.
As of today, users can apply to finance an unlocked HTC One directly from HTC's website. This way users can skip out on the service contracts that carriers require users to sign before receiving the device at a discounted price. All told, HTC's model directly mirrors that of T-Mobile's Uncarrier financing options.
When a user applies to HTC's device financing program, HTC's financing partner looks into their credit history and uses what it finds to set different agreement terms. For example, HTC's website notes that users could receive the device without having to put any money down. Regardless of whether users need to place a down payment on the device or not, they'll be required to pay for the remainder of the device's cost in monthly installments. HTC says qualified buyers could see payments "as low as $25 per month." That monthly payment rate heavily depends on the credit worthiness of the applicant.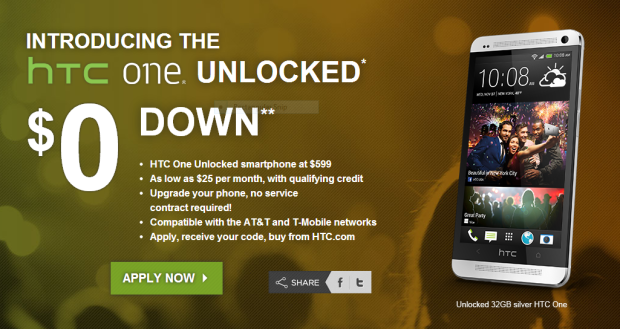 Normally an unlocked HTC One would cost users $599 before taxes and shipping charges.
Unfortunately, the program isn't for everyone. The HTC One the program is giving to applicants only supports GSM networks. That means it'll only work with AT&T and T-Mobile's networks. That's odd as the HTC One is also available on Sprint and Verizon.
This deal is only available to users in the United States who are 18 or older, except for Alabama and Nebraska. Those states require that the user to be 19 or older to apply. The financing program is also not for people who like to take their time paying off lines of credit. HTC's financing partner, Fortiva, won't charge users any interest as long as they send payments on time and finish paying for the device within 24 months. Users who fail to pay on time could find that interest rate rises.
Users who manage to snag one of the devices will need a working SIM that's attached to a prepaid or post-paid account with T-Mobile or AT&T. However, should they prefer one of the other, a user can switch between those carriers without having to buy a new HTC One.
Read: HTC One Review
The HTC One is considered to be a pretty decent phone by most power users. That is despite its processor being slightly last-generation when compared to more recent devices like the LG G2. The HTC One in this deal includes 32GB of on-board storage.

This article may contain affiliate links. Click here for more details.